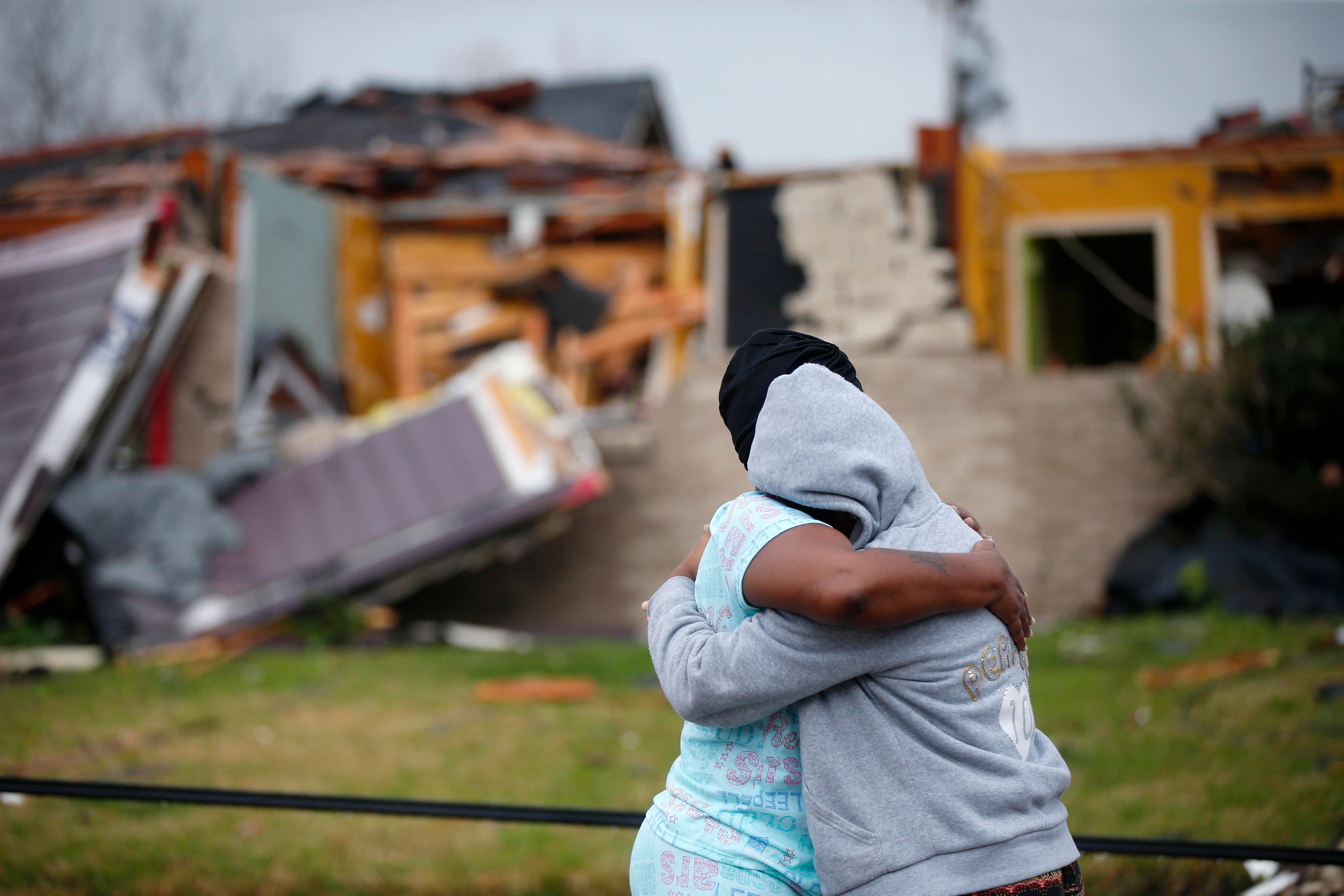 Tornadoes touch down, wreak havoc in Louisiana
NEW ORLEANS -- Tornadoes touched down in southern Louisiana Tuesday, wiping houses from their foundations and downing power lines a severe line of weather moving across the region.
Louisiana Governor John Bel Edwards has declared a state of emergency, according to a spokesperson Tuesday afternoon.
At least three tornadoes have touched down - one in the eastern part of New Orleans, another near the town of Donaldsonville and another in the town of Killian, said Danielle Manning, a meteorologist with the National Weather Service.
CBS affiliate WWL-TV in New Orleans reports that the National Weather Service said that the dangerous tornado was down in New Orleans East at 11:33 a.m. The tornado is part of a large weather system that was sweeping through Louisiana, Mississippi and Alabama -- over 2.5 million people were in the storm's path, CBS News' David Begnaud reports.
New Orleans Mayor Mitch Landrieu said there are initial reports of dozens of minor injuries and two more serious injuries. A spokesman for the Emergency Medical Service described most of those injured Tuesday as "walking wounded," with minor cuts and scrapes.
City officials say about 10,000 homes are without power and there are reports of gas leaks in the area.
Police Chief Michael Harrison urged people to stay off the roads and out of the affected areas. Patrols are doing house-by-house searches in affected neighborhoods to make sure no one's trapped by falling debris or other damage, Harrison said.
Local media showed images of some severely damaged buildings in eastern New Orleans with power lines strewn across the road.
At least seven homes have been damaged, two of them completely destroyed, in Livingston Parish, northwest of New Orleans, said Brandi Janes, the deputy emergency preparedness director. She didn't immediately have any information on whether the homes that were destroyed were occupied when the storm struck.
Authorities are working to get trees out of roadways and with the Red Cross to get help to damaged areas, Janes said.
The tornadoes are part of a wall of bad weather moving across the Deep South that lit up radar monitors and prompting multiple tornado warnings from Louisiana to Alabama as severe storms brought hail, high winds and twisters to the New Orleans area.
One of the warnings described a "large, extremely dangerous and potentially deadly" twister south of Hammond, Louisiana. In Louisiana, tornado watches covered New Orleans and Baton Rouge. In Mississippi, a tornado watch covered the southern half of the state. In Alabama, the city of Mobile was in the storm's path.
WWL posted images of damage in the area:
NASA was also rattled by the tornado, which caused extensive damage at its Michoud Assembly Facility in New Orleans. The sprawling Michoud facility once built Saturn moon rockets and space shuttle external fuel tanks. It's currently being used by NASA and Lockheed Martin to build a rocket to boost astronauts beyond low-Earth orbit on future deep space missions to the moon, nearby asteroids and, eventually, Mars.
On Facebook, the facility said that only minor injuries have been reported and NASA employees and other tenants are being accounted for. The onsite emergency response team is conducting damage assessments of buildings and facilities, the post said.
Photos and video posted on social media showed an overturned car in the parking lot and extensive damage to the administrative building:
On the east side of New Orleans, tornado survivor Sheryl McBride rushed into her bathtub when the tornado struck her home. She described the scene to Matthew Hinton at The New Orleans Advocate.
"As soon as I got in, stooped down, the roof came off, things started flying. I asked Jesus to cover me, don't let me get hurt. Next thing you know, here we are," McBride said while standing in the wreckage of her home.
She pointed out the bathtub beneath the debris.
"I thought it was the Wizard of Oz for a moment," she said.
Thanks for reading CBS NEWS.
Create your free account or log in
for more features.