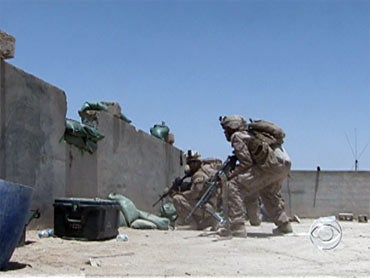 "Thundering Third" Sees Deadly Action
June is off to a deadly start in Afghanistan. 15 Americans died in the first eight days, including two killed today by a roadside bomb in the south. CBS News correspondent Terry McCarthy was embedded with the Third Battalion, First Marines and followed them into battle.
In broad daylight, the Taliban attacked Patrol Base Karma in southern Afghanistan. These Marines have only been here two weeks - for some of the younger men, this is their first ever firefight.
After a lull in the fighting, more incoming shots came into the base. The Marines gathered on the roof to see if there will be a second wave of that attack.
But the Taliban melted away in the face of the firepower of the Marines. Instead they generally resort to a different weapon: the improvised explosive device, or IED, which is harder for the Marines to fight.
Terry McCarthy's "Thundering Third" Blogs
Marines Push Taliban Back from Base
"Thundering Third" Meets with Local Afghan Leaders
"Thundering Third" Adapts to IED Threat
"Thundering Third" Handing Over Command in Garmsir
"Thundering Third" Marines Deploy
While we were there, they hit a Marine patrol just two miles north of the base. Shortly before 10 a.m. one morning, we heard an explosion. Minutes later we heard two American casualties.
Staff Sergeant Paul Worley, a 10-year veteran of the Marines and a former tobacco farmer from North Carolina leads the rescue mission. Across the radio he hears "two angels" - which means both men are dead.
Sgt. Ali Reza Husseini of the Afghan Army was walking right behind the two Marines. He said they were sweeping the road with metal detectors when the IED blew up.
Finally the Marines reach the crater itself which is waist-deep and stretches across the entire road. They retrieve the bodies of the two men, Sergeant Kenneth May, who was 26, and Corporal Jeffrey Johnson, 21 - both from Texas. Everyone goes silent as they carry their fallen comrades away.
Next day, the Marines are still recovering. Sgt. Worley, on his fourth deployment, has seen this before - many of his men have not.
"Anytime anything like that happens - it's rough," he said. "I tried to keep the young Marines back and not give them a really good visual on what was happening."
To keep them focused, Sgt. Worley takes out another patrol straight away looking for information on the Taliban who are placing the IEDs. These Marines are learning quickly what type of war they will have to fight here.

Thanks for reading CBS NEWS.
Create your free account or log in
for more features.