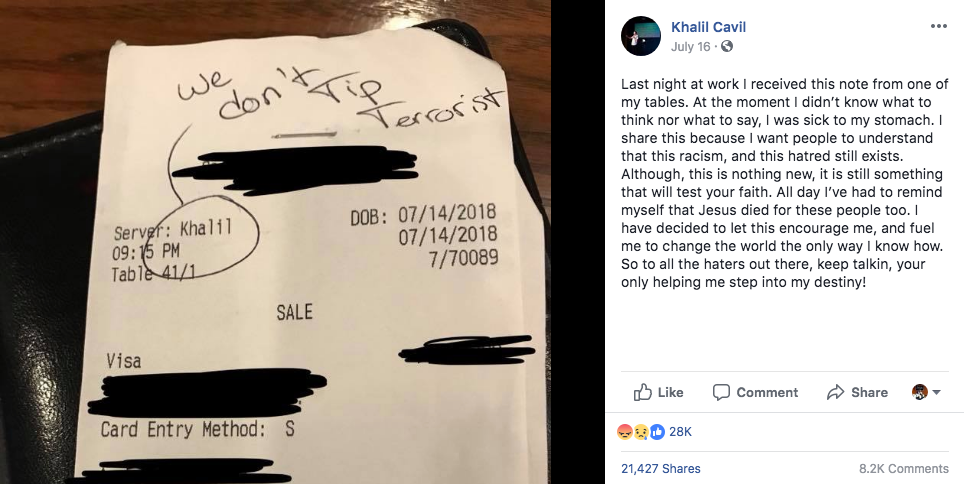 Texas waiter faked "we don't tip terrorist" note on receipt, restaurant says
A waiter at a Texas steakhouse made up the viral story about a customer leaving him a racist note, his employer said Monday. The story gained national attention after Khalil Cavil, a 20-year-old server for Saltgrass Steak House in Odessa, Texas, posted a now-deleted image of the receipt he claimed was left for him on July 14.
On the bill, Khalil's name was circled and the words, "we don't tip terrorist," were written at the top.
Cavil wrote in his post, which was deleted as of Tuesday morning: "I share this because I want people to understand that this racism, and this hatred still exists. Although, this is nothing new, it is still something that will test your faith." Cavil's Facebook page also appears to have been deleted.
Saltgrass originally said it had banned the customer blamed for the message. But now, the restaurant's corporate office says it has learned the story was a hoax.
"After further investigation, we have learned that our employee fabricated the entire story," Terry Turney, COO of Saltgrass Steak House, told the Odessa American in a statement. "The customer has been contacted and invited back to our restaurant to dine on us. Racism of any form is intolerable, and we will always act swiftly should it occur in any of our establishments.
"Falsely accusing someone of racism is equaling disturbing," Turney said.
Cavil also admitted to newspaper that he wrote the "we don't tip terrorist" note himself.
"I did write it," Cavil told the Odessa American. "I don't have an explanation. I made a mistake. There is no excuse for what I did."
After sharing his post on Facebook, Cavil had received monetary donations, which he told the newspaper is now being returned.
Thanks for reading CBS NEWS.
Create your free account or log in
for more features.