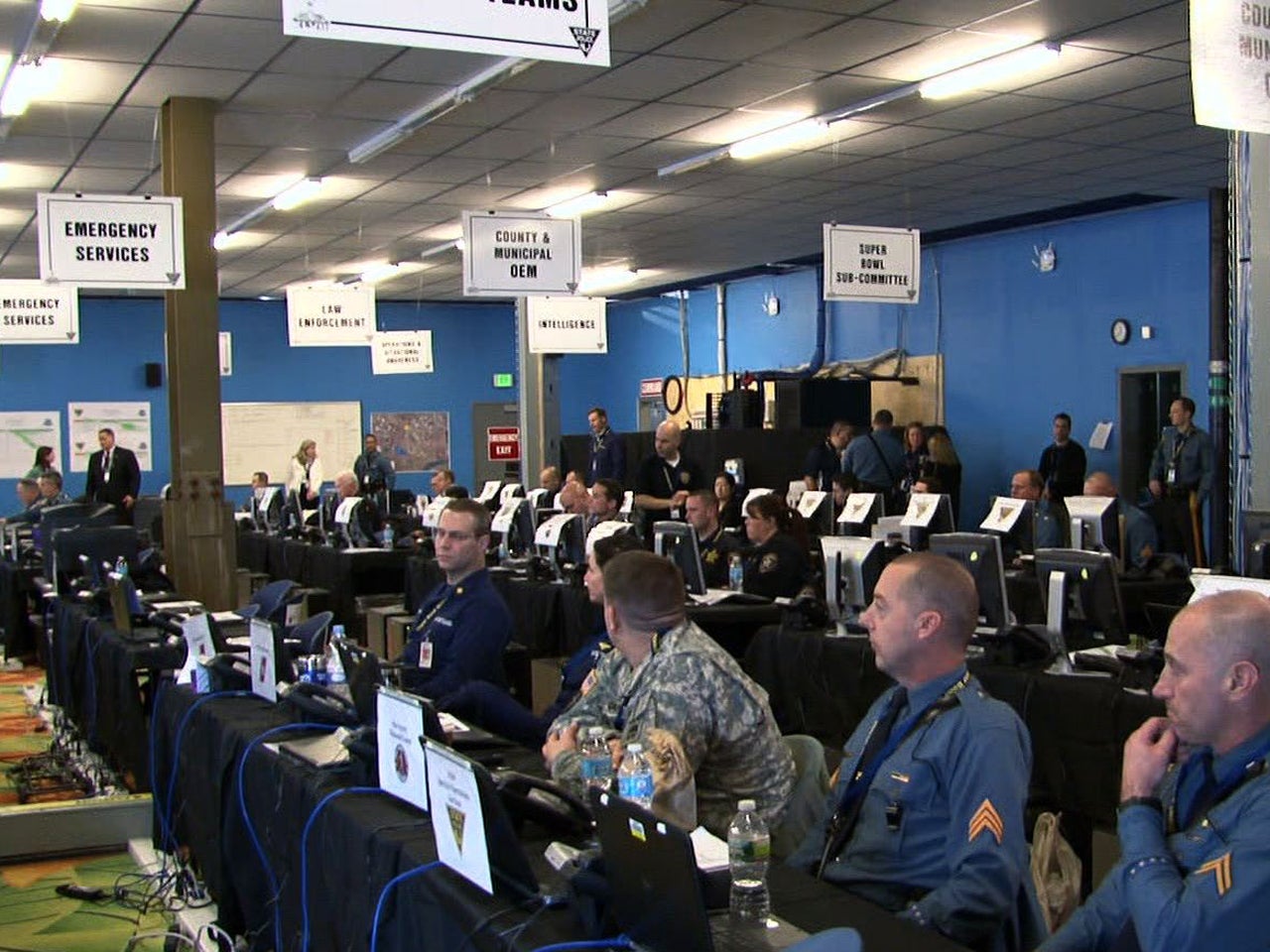 Super Bowl XLVIII security: Inside the event's secret command center
The countdown continues to Super Bowl XLVIII, but thousands of people are already hard at work securing MetLife Stadium.
Recently, CBS News got a rare look inside the secret command center keeping a close watch on everything.
We've been asked not to disclose the exact location of the command center created for the event, but CBS News' Don Dahler said on "CBS This Morning": "I can tell you it's within sight of MetLife Stadium where the Broncos and Seahawks will be playing on Sunday. It is the base for thousands of people, from government and private agencies, who form, in effect, the third Super Bowl team. It's an amazing place."
Even with six days still to go before kick-off, the command center is fully staffed and operational. Hundreds of people, from the military, law enforcement, federal agencies, and even utility companies are gathered with a single purpose -- make sure the game goes off without incident. Six thousand more will be stationed around the stadium.

Dahler added the utilities are involved to avoid something like last year's power outage. If something like that happens at this year's event, officials want to be able to react quickly to it, whether it be from sabotage or from malfunction.

New Jersey State Police Lt. Col. Ed Cetnar is the incident commander. He said they've been preparing for the event for more than two years.
"We've been coordinating, exercising, and now we're executing our plans and putting everything in place," Cetnar said.
Along one wall, an enormous television screen displays a wide range of images and information. It gives access, Cetnar explained, to hundreds of camera feeds.
A helicopter hovering over the stadium feeds real-time images back to the command center. It has the capability of using infrared and night vision to spot people and will also be equipped with a SWAT team and sniper.
The personnel in the command center will not only have to keep an eye on the stadium, but also how people get there.
"We have a mass transit super bowl," Cetnar said. "We have trains coming in, we have buses, and we have vehicles also coming in here. Of course, Super Bowl week, there 's a little bit of enhanced security for what we have to do because we have a great influx of folks coming into the region."
Six-year-old dog Warner and his handler, Sgt. First Class Archer Jones, are part of the team.
"Warner is trained to detect 16 different types of explosive odors," Jones said. "Everything from commercial-grade explosives to military-grade explosives to homemade explosives."
Warner has been working 17-hour shifts on icy, salty ground. So he's been issued some special equipment -- rubber-soled booties with Velcro clasps to protect his paws while he's out doing work.
Thanks for reading CBS NEWS.
Create your free account or log in
for more features.