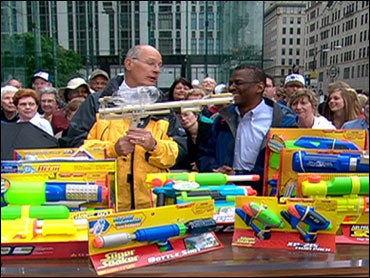 Still Wet And Wild: Super Soaker Turns 20
Water battles were changed forever 20 years ago.
In 1989, suddenly other products were all washed up when the Super Soaker -- originally known as the Power Drencher -- was introduced. The water blasters could shoot farther and faster than any other product on the market.
And now, inventor of the Super Soaker, Lonnie Johnson, an aerospace engineer, appeared on The Early Show Thursday to discuss his patented pressure blaster that still has the power to captivate -- and drench -- kids and adults today.
The former NASA scientist said he always knew his invention was going to be successful, "but not quite this successful."
He told Early Show co-anchor Harry Smith he thought of the Super Soaker when he was in his bathroom working on a new engine invention.
"I shot this stream of water across the bathroom and I said, 'I think I should stop this science stuff for a minute and do something everybody would appreciate and enjoy.'"
But over the past 20 years, Super Soakers haven't enjoyed completely calm waters. Johnson discussed the controversy surrounding the product in Boston.
Legislation there once sought to ban the water blasters that left one child dead from a real gunshot wound after a Super Soaker battle escalated, and two people were burned with a Super Soaker filled with bleach. Johnson said he once received a call from a reporter, asking for comment on drive-by shootings.
Johnson showed Smith the white and clear prototype of the first Super Soaker, which looks very different from the colorful models of today. Smith said it should probably be in a Smithsonian museum.
The first Super Soaker to be released was the Super Soaker 50 that could allegedly shoot 50 feet. But Wired Online reports the new product, a re-released anniversary edition of the first toy, claims it can shoot only 35 feet.
Dan Benkwitt, of Hasbro -- the toy company that produces Super Soakers -- was also on the plaza Thursday, trying to keep dry by correctly answering questions from The Early Show anchors.
He didn't have much success.
At one point, Early Show news anchor Russ Mitchell asked if Benkwitt knew Early Show weather anchor and features reporter Dave Price's middle name.
Benkwitt said "Steve," and was soaked.
Price, whose middle name is Marshall, charged Benkwitt, saying, "It's Marshall, it's Marshall."
The soaking continued with The Early Show anchors showing the pressurized power of the water blasters, by shooting down bottles filled with water, and a bit of target practice on large bull's-eye boards.
Thanks for reading CBS NEWS.
Create your free account or log in
for more features.