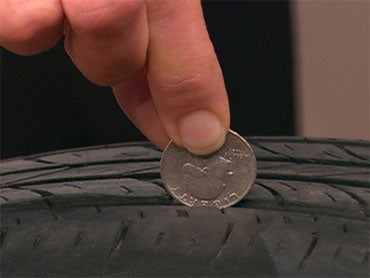 Safe Winter Driving Made Simple
Much of the country is getting an early taste of winter. And, in addition to the freezing temperatures, sleet, snow and ice are blanketing the nation's roadways, creating dangerous driving conditions for millions of motorists.
David Champion, director of automobile testing for Consumer Reports magazine, appeared on "The Early Show" Wednesday morning with some tips on how to stay safe on the roads this winter season.
Check your tire pressure and tire treads
"You need to make sure that your tires have plenty of tread on them," Champion said.
He said, while inserting a quarter into the tire tread, "We use a quarter. If you can see the top of George's head, then those tires need to be replaced."
"Also, tire pressure are very important," he said. "Always check your tire pressures because cold temperatures reduce the pressure inside the tire. You need to keep those up to date, as well. And if the going really gets tough, snow tires are really good choice if you are driving in snow and ice conditions, they have a much more aggressive tread than a normal all-season tire and gives you much better traction to get going, better braking and cornering."
Champion added motorists should "drive very gently."
"No sharp maneuvers, no sharp braking, no sharp acceleration," he said. "I always say, drive as if you have a cup of coffee on your dashboard and don't want to spill it, so everything is done very gently."
Check headlights
"Headlights are very important not only to be seen -- to see with, but also to be seen," Champion said. "So, make sure that your headlights are nice and clear. Make sure your taillights are clear of dirt. Make sure the bulbs are intact and you don't have one out."
Stock up on windshield wiper fluid
"Your washer fluid here should always be filled before you take a journey," Champion said. "It, also, should have washer fluid in it so it doesn't freeze in conditions like we have today, which is very cold here. Because that fluid, as soon as it comes out oun your windshield you don't want it to freeze on here, either. Also, your wiper blades, as well, they need to be replaced probably twice a year. It's a really good time to change them to make sure when the wipers cut across they actually clear the screen."
Keep safety items in your car
Champion said, "One of the main things is make sure you have a good set of jumper cables. Once you can get your car started, then you can get heat out of the engine to keep yourself warm."
He added, "An engine will use probably less than a half gallon of gasoline every hour. So, as long you've got sort of half a tank of gas you're good for a number of hours to let that engine um run and keep yourself warm inside."
Another item he recommends you keep in your car is a flashlight.
"Make sure the batteries are charged so it actually works," he said.
He also suggests keeping a scraper in your car.
Prepare and Emergency Kit
And just in case you get stranded, Champion also recommends bringing along a blanket, water, a first-aid kid and cell phone.

Thanks for reading CBS NEWS.
Create your free account or log in
for more features.