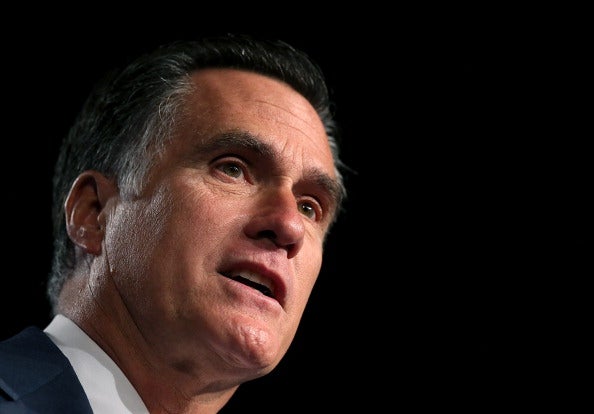 Romney hopes Polish visit can pay dividends in swing states
(CBS News) Mitt Romney's trip to Poland on Monday -- the last stop on his three-country, six-day foreign tour -- offers him a chance to bolster his image as a competent diplomat, something he could use after his gaffe-filled stint in London. But the real potential prize for visiting the Eastern European nation lies at home: more votes from the Polish-American and Catholic communities.
The states that hold the largest communities of Polish-American voters overlap significantly with this year's swing states. Michigan, Pennsylvania, Wisconsin, and Ohio all are home to numerous voters who trace their heritage to Poland, according to John Kromkowski, a Catholic University professor who studies urban and ethnic politics.
"They're not only in swing states, but over the decades that I've been tracking this, they're also swing voters," he said. "It's sort of a mixed population, so it's an almost archetypal swing vote."
Kromkowski noted that many Polish-Americans live in communities that are concerned about outsourcing. While Romney will talk about economics in Poland, his team has said, outsourcing is an area in which he has been vulnerable to the Obama campaign's attacks.
One issue Romney will likely have to address to get the attention -- and votes -- of Polish-Americans is to promise to help Poland become a member of the visa waiver program, which is important for voters who still have family in Europe. President Obama offered his support for legislation to do just that during his own trip to the country in 2011.
"Unless Romney comes out very hard and says flat out that, 'The day that I become president, we're moving Poland into the visa waiver program,' he's going seem a little flat," said John Micgiel, executive director of Columbia University's East Central European Center.
Along with the Polish vote, Romney hopes to woo Catholic voters who may appreciate his visit to a country in which the church is still enormously important. Since the 1960 election, when Catholics flocked to John F. Kennedy as the first candidate of their faith, the balance between Democrats and Republicans has evened out among the population. Still, Romney's trip won't have nearly the same resonance it might have had in the midst of the Cold War.
"In some ways it's an echo of an old Cold War strategy, which is that the Republican Party, going back to the 1950s, made a significant outreach to American Catholics who would have relatives behind the Iron Curtain, including Poland," Catholic University politics professor John White said of Romney's trip. "I don't think that that carries the same weight today, given that that was another world, another time, and a whole other era."
But this is an election where nibbling at the margins can help, especially after Obama may have alienated some Catholics with an executive order that requires religiously-affiliated organizations to provide their employees with insurance plans that include birth control.
Obama received 54 percent of the Catholic vote in 2008, according to the Pew Research Center, several points better than the two Democrats who preceded him. Much of that support comes from Hispanic Catholics, who comprise 58 percent of the religious group in the United States.
White predicted that Obama will win the Catholic vote again because of the large Hispanic population, but chipping away at that number will help Romney. He especially needs to court the regular churchgoing population.
The other crucial aspect of the trip for Romney is ensuring that he resembles a competent diplomat, not a politician stuck in the Cold War. The visit to Poland could leave him looking out of touch with world affairs if he uses the setting to continue to take a hard line against Russia.
Romney's advisers say he plans to talk about Poland's economic success relative to many of its debt-laden neighbors. But before he left the United States to travel abroad, he gave a speech in Reno, Nev., to the Veterans of Foreign Wars that previews some of the other rhetoric in his remarks, which are scheduled for Tuesday. In the VFW address, the former Massachusetts governor sharply criticized Obama's policies toward Eastern Europe.
"It began with the sudden abandonment of friends in Poland and the Czech Republic. They had courageously agreed to provide sites for our antimissile systems, only to be told, at the last hour, that the agreement was off," Romney said in reference to the administration's 2009 decision to scrap a George W. Bush-era missile defense plan.
"As part of the so-called reset in policy, missile defenses were sacrificed as a unilateral concession to the Russian government," Romney added. "If that gesture was designed to inspire good will from Russia, it clearly missed the mark."
The Poles, who have had a historically mistrustful relationship with Russia, were not happy with Obama at the time, because the Russians viewed the move as a victory. But since then, the country's attitude toward Russia has begun to evolve to come in line with the U.S. reset of Russian relations. U.S. officials worked to repair the damage to the relationship and just last week, Defense Secretary Leon Panetta met with Polish Defense Minister Tomasz Siemoniak in Warsaw to discuss plans for a new missile-interceptor site.
"One of the main turnarounds in Polish foreign policy of the last two years is that Poland has broadened its portfolio, and instead of investing exclusively in its relationship with Washington it now understands that it needs to have good ties to Russia and good ties to the European Union," said Charles Kupchan, a senior fellow at the Council on Foreign Relations who also teaches at Georgetown University.
For Romney -- who called Russia the "number one geopolitical foe" to the U.S. in March -- keeping up the tough guy talk against Russia would be a "risky and anachronistic step," Kupchan said.
Romney will have the support of his host Lech Walesa, the former Polish president and winner of the 1983 Nobel Peace Prize, who invited Romney to visit the country. But he'll have to keep up with the times. Micgiel, the Columbia professor, said Romney might do better by talking about energy development, an issue that's both central to his own campaign and important to Poles as they seek to reduce their dependence on Russian energy.
Thanks for reading CBS NEWS.
Create your free account or log in
for more features.