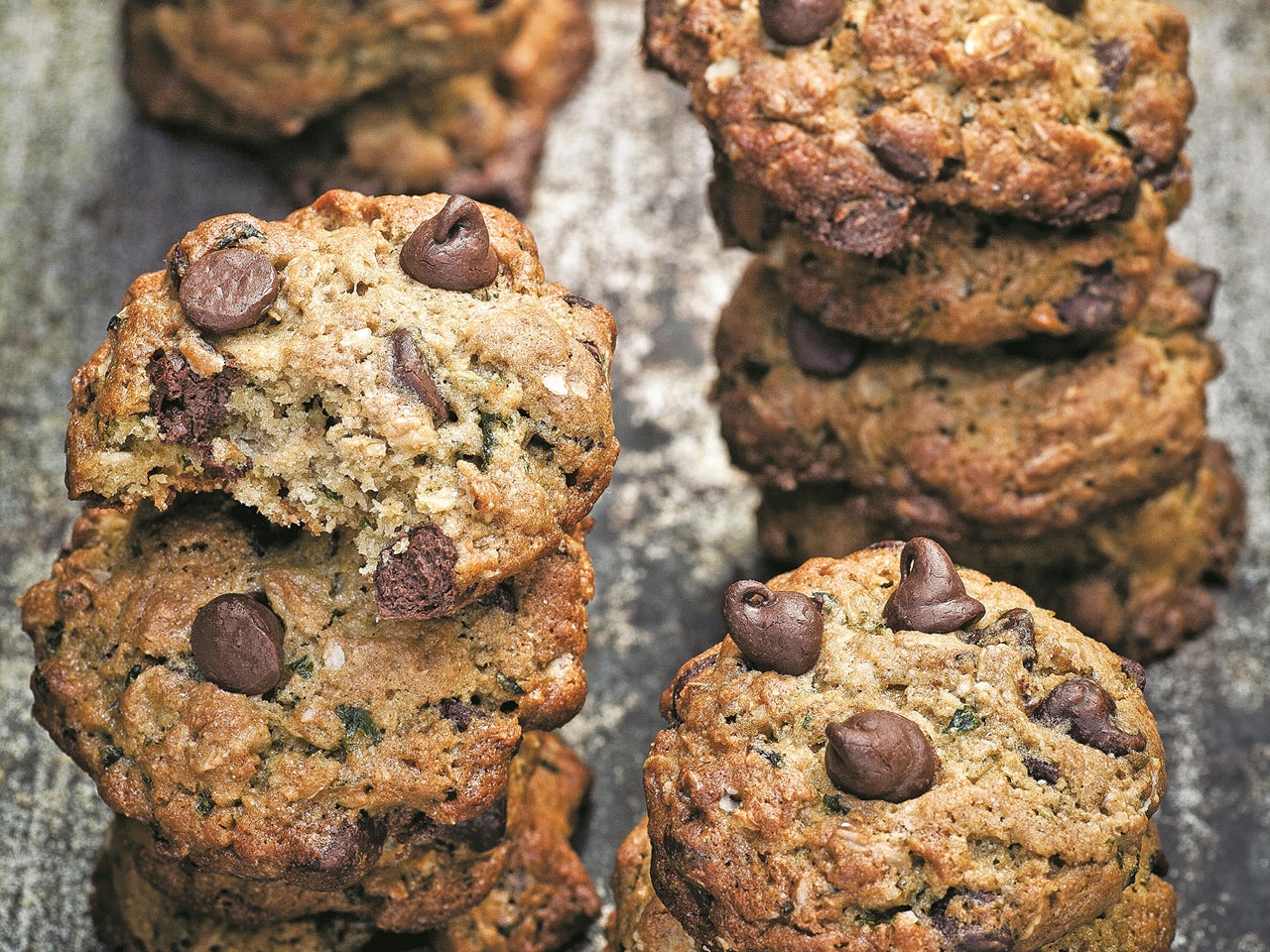 Recipe: Chocolate Chip Kale Cookies
(CBS News) Recipe reprinted with permission from the book, "Fifty Shades of Kale: 50 Fresh and Satisfying Recipes That Are Bound to Please" by Drew Ramsey, M.D. and Jennifer Iserloh (HarperWave).
You smell it, you crave it, you must have it. Who can resist the siren song of chocolate chip cookies fresh from the oven?
This nutritious batch is made with whole wheat pastry flour and oats, spiked with a small hit of kale. Don't forget to let them cool before indulging . . . you wouldn't want to get burned by temptation.
Chocolate Chip Kale Cookies
Makes 24 cookies
Ingredients:
Nonstick cooking spray
1¼ cups white whole wheat or pastry flour
½ cup old-fashioned oats
2 teaspoons baking powder
¼ teaspoon salt
½ cup packed torn kale leaves
1 cup firmly packed light brown sugar
½ cup (1 stick) unsalted butter, softened
1 tablespoon molasses
2 large eggs
1 tablespoon vanilla extract (or substitute ¼ teaspoon mint extract)
1 cup 70% cocoa semisweet chocolate chips (or 70% cocoa dark chocolate chunks)
Directions:
Preheat the oven to 350 degrees F. and coat 2 baking sheets with cooking spray.
Place the flour, oats, baking powder and salt in a large bowl and stir well. Set aside.
Place the kale in a food processor and pulse 10 to 15 times, until it is finely chopped but not pureed. Place the brown sugar and butter in a large bowl and beat with an electric mixer on low speed until thoroughly combined. Add the molasses and eggs, one at a time, mixing on low speed until just incorporated. Add the vanilla extract and mix until well combined. Slowly add the dry ingredients, mixing to combine.
Add the chocolate chips and stir with a wooden spoon 2 or 3 times to distribute. Using a tablespoon, drop the batter onto the greased baking sheet, each dropful about 1 inch apart. (You will need to make the cookies in batches.) Bake for 12 to 14 minutes, until the cookies are firm around the edges but still slightly soft in the center. Transfer the cookies to a wire rack to cool completely.
Per serving (1 cookie):
141 calories
1 g protein
19 g carbohydrates
7 g fat (4 g saturated)
16 mg cholesterol
0.4 g fiber
54 mg sodium
For more info:
See more recipes from "Sunday Morning"'s 2013 "Food Issue"
Thanks for reading CBS NEWS.
Create your free account or log in
for more features.