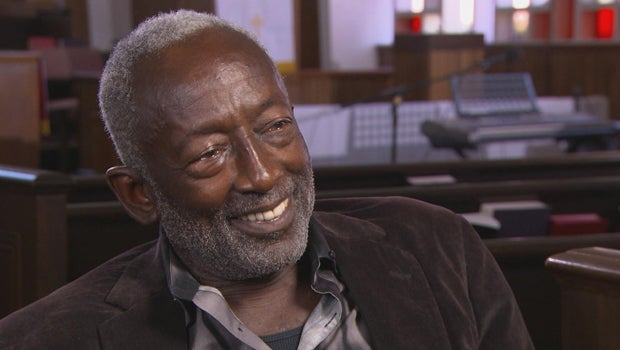 ​Q & A with Garrett Morris
Garrett Morris gets plenty of laughs on the CBS comedy "2 Broke Girls." It's his latest stop in a long and sometimes troubled career. Rita Braver tracked him down for some Questions-and-Answers:
"I'm the Hoochie Koochie man . . . Everybody knows I'm here ..."
If this Hoochie Koochie man looks awfully familiar, you may remember Garrett Morris as one of the original cast members on "Saturday Night Live."
Then there's his current gig: He's now beginning his fourth season of playing Earl, the wisecracking cashier, on the CBS comedy series, "2 Broke Girls."
Morris jokes that he's in it for the free food backstage. "Yeah, yeah, they have sushi in here!" he exclaimed in the green room.
But at 77, and twice divorced, he clearly loves being the Grand Old Man on the set:
"I actually think I have the best job on TV," he said. "I'm not a septuagenarian; I'm a sexygenarian. Anyway, because at my age, to be on a national televised, very popular show doing what I like to do, that's a blessing."
And Garrett Morris knows all about blessings.
He was born in New Orleans, where his grandfather was a preacher at the Phillips Memorial Methodist Church.
"You were the first child born to your mom -- she was very young," said Braver.
"Yes, my mom was 16," Morris said. "And I was gonna hesitate to -- I'm gonna say it. My mom was raped when she was 16, and at that time when that happened to her, she had been told up until that time that the way babies came was, you went down to the Mississippi River and you got 'em off the boat! So she really did not know what was happening."
"My grandfather was very unusual, 'cause he had me listening to the blues," Morris said. "Now mind you, in the '40s blues was considered evil."
"Not church music!" said Braver."
"So I was singing the gospel AND the blues by the time I was four or five."
Morris went on to study classical music at Dillard University in New Orleans. But when he moved to New York in the late 1950s, he landed a job with the Harry Belafonte Singers.
"It was great fun," he said, "but it also was -- there's a lot of competition when you're at the bottom. I'm 21, OK? And all those older guys would say, 'Look, smart aleck, just forget it. We are here!' So getting to sing a solo took about four or five years."
He also started getting work in plays and films, including the Sidney Lumet thriller, "The Anderson Tapes," in which he shot Sean Connery. "I didn't wanna kill Sean Connery!"
But "Saturday Night Live" was his big break.
Hired in 1975, he would spend five years on the show, creating classic characters like Dominican baseball player Chico Esquela:
"Thank you bery much! Baseball been berry, berry good to me!"
"Everybody was talking about 'Saturday Night Live' in those days -- it was young, it was fresh. What was it like to be part of it?" asked Braver.
"Let me say this now: I'm not now that way, but I was -- I am somebody who's dealt with serious introversion," Morris said. "And at that time, I was very much an introvert. And I had a cocaine problem, too, which was adding to it. So a lot of what I did was counterproductive for myself in terms of really connecting with the group."
It would be 30 years before he kicked the cocaine habit. He's been drug-free for 10 years. He managed to work all the while, though he'd like to forget some of those B-movies.
"Oh, God, I was a whore for, like, six years!" Morris laughed. "But one of my horror movies was a thing called 'The Stuff.'"
"And that's kind of a cult favorite now, huge," said Braver.
"Yeah, it's a cult favorite. And at the end, my head gets knocked off!"
There were TV roles, including playing the boss on "Martin."
It was during the run of that show, in 1994, that Morris was shot by a robber in broad daylight.
He said he was hospitalized "for, like, two years. I was in a wheelchair for about a year."
But a trip to New Orleans was always good for body and soul, especially when it came to dropping in on his old friend -- the 83-year-old owner of Dooky Chase's Restaurant -- for the food he grew up on. "Had to come home for some red beans and rice," said Morris.
Of course, this being New Orleans, Morris ends up harmonizing with Dooky Chase.
Kind of a warm-up for his appearance at Snug Harbor, where Chase's daughter, Leah, just happens to be performing:
"You'll get your kicks on Route 66."
In fact, Garrett Morris -- that old Hoochie Koochie man -- has just recorded a new album; and along with everything else, is at Garrett Morris' Downtown Blues & Comedy Club in L.A.
Braver asked, "Has retirement ever crossed your mind?"
"No," he replied. "It keeps me going, you know? If you're thinking what you gotta do the next day, your body's gonna say, 'Let me be here to do that,' right? So I want my body to keep saying, 'I gotta be here to do that,' until at 98 or 99 it says, 'OK, I'm not gonna do that any more, all right?'"

For more info:
Thanks for reading CBS NEWS.
Create your free account or log in
for more features.