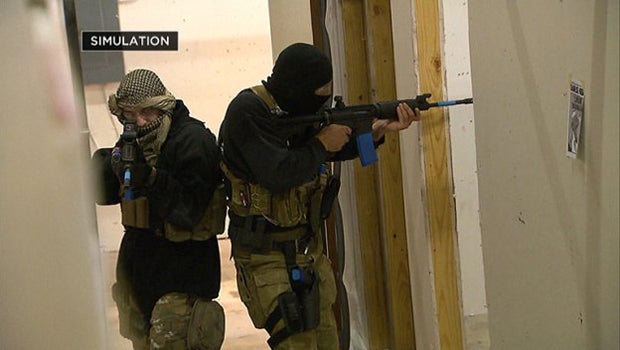 Paris terror attack simulation conducted in Texas by gun group
PLANO, Texas -- A group called The Truth About Guns organized Tuesday a simulation of last week's terrorist attack in Paris, CBS Dallas station KTVT-TV reports.
The group hoped to learn how things may have played out differently at French satirical newspaper Charlie Hebdo or any other mass shooting.
"It's the one that people are Monday-morning quarterbacking at the moment," said group member Nick Leghorn. "It's interesting to see how people react under stress. It's not what you'd expect people to do."
Volunteers took turns on a set designed to look like the offices of the weekly newspaper. But unlike the terrorist attack that killed 12 people, volunteers played the role of armed civilian.
Time and time again, the armed civilian "dies" - shot by a round that marks him or her with paint.
In only two cases volunteers were able to take out one of the two gunmen in the process.
"Still got killed, but I did better than I thought I would do," said father of four Parks Matthew. He was curious to see what protective instincts may kick in.
"If I was in a movie theater and someone were to pull a gun, what am I going to do? And I know now I'm not just going to fall on my kids and protect them. I need to advance on the threat," Matthew said.
Twelve volunteers participated in the exercise. Only one survived after running away. No one was able to take out both shooters.
Thanks for reading CBS NEWS.
Create your free account or log in
for more features.