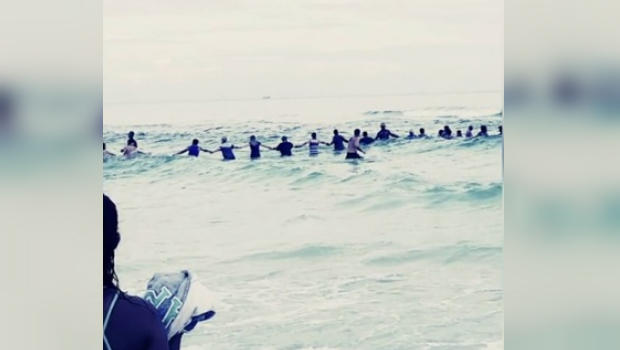 Dozens of strangers form human chain to rescue swimmers at Florida beach
PANAMA CITY BEACH, Fla. -- Strangers on a Florida beach formed an 80-person human chain to rescue nine members of family who had been caught in a riptide and pulled too far from shore.
CBS affiliate WKRG-TV reports the incident was captured on video.
Roberta Ursrey and her family were enjoying the day at M.B. Miller County Pier on the Gulf of Mexico when she noticed her sons were missing, the Panama City News Herald reported . She went looking for them and soon heard them screaming from the water that they were trapped by the current.
Others warned her not to go in the water, but Ursrey, her mother and five other family members swam to the boys' aid, but then found themselves also trapped in 15-feet of water.
Jessica Simmons, who had stopped with her husband at the beach for dinner, had just found a discarded boogie board when she saw people pointing at the water. She thought they were pointing at a shark, but when she realized people were drowning, she jumped on the board and began swimming toward Ursrey's family.
"These people are not drowning today," Simmons remembers telling herself. "It's not happening. We are going to get them out."
Meanwhile, Simmons' husband and some other men started a human chain to bring everyone back to shore. Some couldn't swim, so stayed in shallow water. Eventually, about 80 people were involved and got to within feet of the family.
Simmons, her husband and some others then towed the family to the chain, which passed them back to shore.
Ursrey's mother suffered a major heart attack during the ordeal and remains hospitalized. A nephew suffered a broken hand. Otherwise, everyone was safe.
"I am so grateful," Ursrey said. "These people were God's angels that were in the right place at the right time. I owe my life and my family's life to them. Without them, we wouldn't be here."
Simmons said she was impressed by everyone working together to rescue the family.
"It's so cool to see how we have our own lives and we're constantly at a fast pace, but when somebody needs help, everybody drops everything and helps," Simmons told the newspaper. "That was really inspiring to see that we still have that.
"With everything going on in the world, we still have humanity," she added.
Paramedics transported two people to a hospital after they were rescued, WKRG reported.
Thanks for reading CBS NEWS.
Create your free account or log in
for more features.