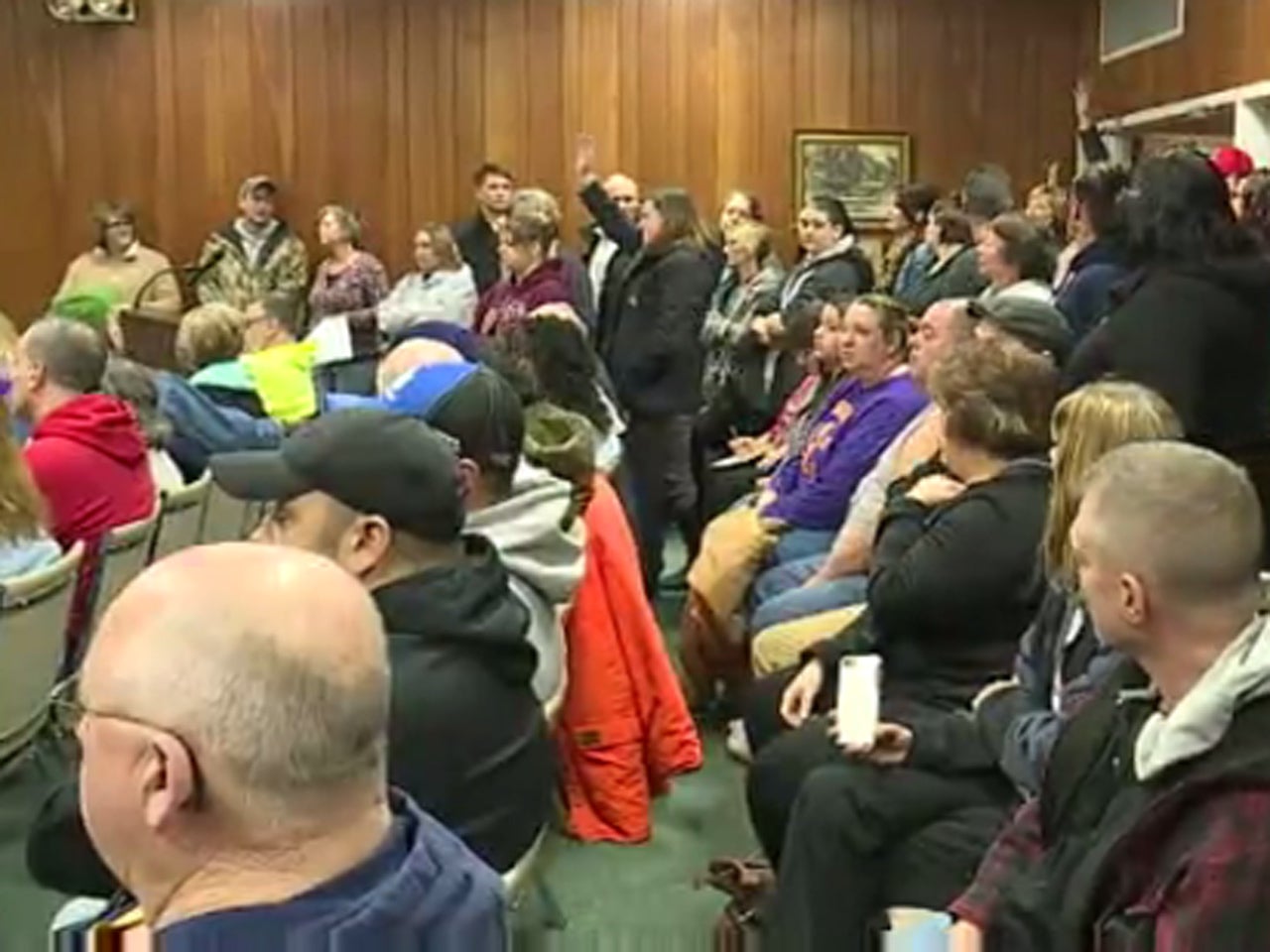 Official in hot water over lead in Sebring, Ohio's water
CLEVELAND -- Ohio is sending pallets of bottled water and testing kits to several communities after environmental officials said the operator of a small water system failed to notify the public for months that unsafe levels of lead had been found in some homes.
The state Environmental Protection Agency issued an emergency order Monday forbidding James Bates from working at the Sebring village water treatment plant and informing him that the agency intends to revoke his operating license for endangering the public and for submitting "misleading, inaccurate or false reports." Ohio EPA Director Craig Butler said he asked the U.S. EPA to open a criminal investigation of what occurred in Sebring, a village about 60 miles southeast of Cleveland.
The Youngstown Vindicator reported Monday that Bates has been placed on administrative leave. Bates declined to comment when reached at home.
Butler said his agency was "too patient" in pushing for public notification about potential lead hazards after testing found high levels at a handful of older homes starting in June.
"We should have had this elevated for immediate action sooner," Butler said. "Our number one priority is protecting the public health."
CBS Youngstown, Ohio affiliate WKBN-TV reports frustrated residents in a standing-room only crowd at a village council meeting Monday night said they're not getting the answers they want from their representatives.
The station says the questions on everybody's minds were: Who knew what, and when?
Water systems are required by federal rules to notify the public when high levels of lead are found. It wasn't until Thursday that Sebring village manager Richard Giroux issued a public notice that children and pregnant women should avoid drinking Sebring's water.
The school district canceled classes Friday and again on Monday. Testing over the weekend found one drinking fountain at the district's school buildings with lead levels that exceed EPA standards.
Messages left for Giroux weren't returned Monday.
The Sebring water system serves 8,100 homes and businesses in three Mahoning County communities. The Ohio EPA has ordered the village to maintain its advisory concerning the health risks of lead to children and pregnant women for a minimum of a year. Correspondence released Sunday by the Ohio EPA showed that it had been asking Bates for months when he would alert the public.
The issue in Sebring comes at a time when problems in Flint, Michigan, have grabbed national headlines. Operators at Flint's water treatment plant failed to treat water to make it less corrosive and caused high levels of lead in tap water throughout the city. Sebring's issue is similar, but on a vastly smaller scale.
The water at Sebring's plant and distribution system is considered safe. Giroux said on Friday that pipes in seven of 20 older homes tested had high levels of lead and copper because slightly acidic water caused pipes to leach the metals.
The state sent 150 pallets of bottled water to Sebring, provided the Mahoning County Health Department with lead testing kits and will establish a screening clinic at an elementary school. Volunteers handed out bottled water over the weekend.
Donna Jean Freeman, of Sebring, said Monday that she and her husband are senior citizens and aren't worried about lead, but added that they installed filters 20 years ago because of the water tasted "funny."
"The water in Sebring is not that hot anyway, but that's beside the point," Freeman said.
Thanks for reading CBS NEWS.
Create your free account or log in
for more features.