Last Updated Sep 3, 2009 12:28 PM EDT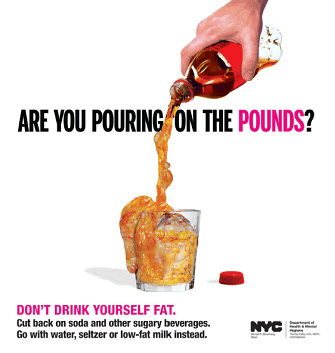 "It's hard to overeat without noticing it," says the New York City health department. "By contrast, soda and other sugar-sweetened beverages can sneak up on you,
adding hundreds of calories to your diet each day without ever filling you up
."
That's why the city is launching a three-month campaign -- at a cost of $277,000 -- to warn New Yorkers not to drink so many sugary drinks -- including fruit juice.
Naturally, the beverage industry is not happy about the campaign. The campaign's messages are "so over the top that they are counterproductive to serious efforts to address a complex issue such as obesity," the Beverage Association said in a statement. And furthermore, "the beverage industry provides an array of beverages with a wide range of calories, including zero calories."
Earlier, the entire state of New York was looking at taxing sugary drinks, but that idea has been set aside, to the beverage industry's relief. But the issue was brought up again this week by the Institute of Medicine and the National Research Council, which advocated in a new report that local governments implement such taxes to combat obesity in children.