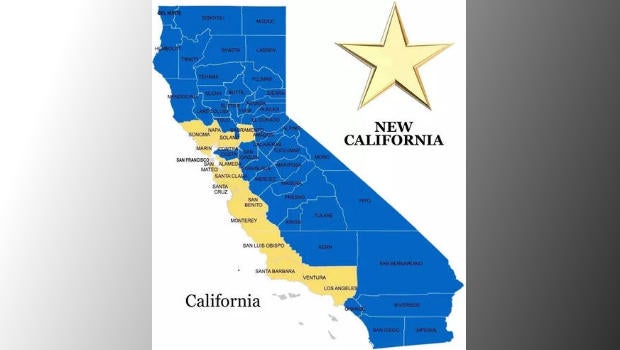 New California declares "independence" from rest of state
SACRAMENTO -- With the reading of their own version of a Declaration of Independence, founders of the state of New California took the first steps to what they hope will eventually lead to statehood. CBS Sacramento reports they don't want to leave the United States, just California.
"Well, it's been ungovernable for a long time. High taxes, education, you name it, and we're rated around 48th or 50th from a business climate and standpoint in California," said founder Robert Paul Preston.
The state of New California would incorporate most of the state's rural counties, leaving the urban coastal counties to the current state of California.
"There's something wrong when you have a rural county such as this one, and you go down to Orange County which is mostly urban, and it has the same set of problems, and it happens because of how the state is being governed and taxed," Preston said.
But unlike other separation movements in the past, the state of New California wants to do things by the book, citing Article 4, Section 3 of the U.S. Constitution and working with the state legislature to get it done, similar to the way West Virginia was formed.
"Yes. We have to demonstrate that we can govern ourselves before we are allowed to govern," said founder Tom Reed.
And despite obstacles, doubters, and obvious long odds, the group stands united in their statehood dream.
The group is organized with committees and a council of county representatives, but say it will take 10 to 18 months before they are ready to fully engage with the state legislature.
This is not the first effort to split up California. In 2014, Silicon Valley venture capitalist Tim Draper submitted signatures to put a measure that would split California in six separate states.
Thanks for reading CBS NEWS.
Create your free account or log in
for more features.