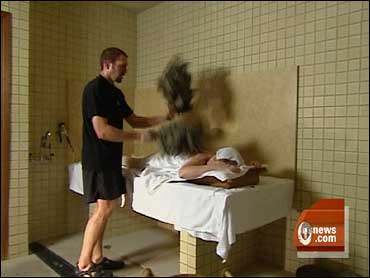 This week The Early Show has been exploring the lengths women go to look and feel younger. In this morning's special report on "Extreme Beauty," CBS News correspondent Sandra Hughes leaves her stress at the curb and steps into the world of the Voda Spa in Hollywood.
In Russian, water is "Voda" and much of this unique spa incorporates water with natural ingredients for relaxation and rejuvenation. It's a modern version of a Russian bathhouse and the massage is performed in a hot sauna with the "veneek" (leafy bundles of oak soaked in warm water.)
The essential oils are released by soaking them in the hot water, which makes them work as a natural astringent while you're in the banya (Russian for bath).
The spa also uses an all natural eco-friendly body scub consisting of blackberries and papaya, which provide powerful antioxidents.
Kym Douglas, author of "The Black Book of Hollywood Diet Secrets," "The Black Book of Hollywood Beauty Secrets" and "The Black Book of Hollywood Pregnancy Secrets," shared some rather unusual tips for beauty procedures at home, and noted the celebrities that use them.
Kitty litter is a great at-home exfoliant. The non-deodorant type, when added to water, can be used in the shower to exfoliate the whole body.
Diaper rash cream doesn't just sooth babies; it's also a great moisturizer for the elbows, knees and heels. Brad and Angelina buy it by the case load and put it on their elbows and hands after diapering.
Kitchen sponges -- a cheap and easy way to exfoliate the whole body is to use a scrubbie-type kitchen sponge when in the shower. The yellow and green ones in particular. Paris Hilton does this and uses the green side on the bottom of feet, etc.
Beer isn't just good for the hair -- the barley, wheat, corn, rice and hops can help invigorate your face. Pour a cold beer onto a washcloth until damp. Place on your face and leave for 30 minutes. Remove the cloth and you'll see radiant skin.
Mane and Tail shampoo -- this is a shampoo for horse tails that is great for hair, makes it thick and luxurious. Jennifer Aniston uses it.
How to have nail polish last longer -- a trick that many celebrity salons do is moisten a cotton ball with white vinegar let it dry and then apply the nail polish, this way the polish will be even and last longer.
One tip for pedicures -- put little mini marshmallows between the toes.
If your hair color turns a little green from chlorine or something, you can put Alka-Seltzer in water and it will even your hair color.
For a quick make-up fix-me-up, use a washable Crayola marker. Red is a great liptsick. Gwen Stefani uses it.

Thanks for reading CBS NEWS.
Create your free account or log in
for more features.