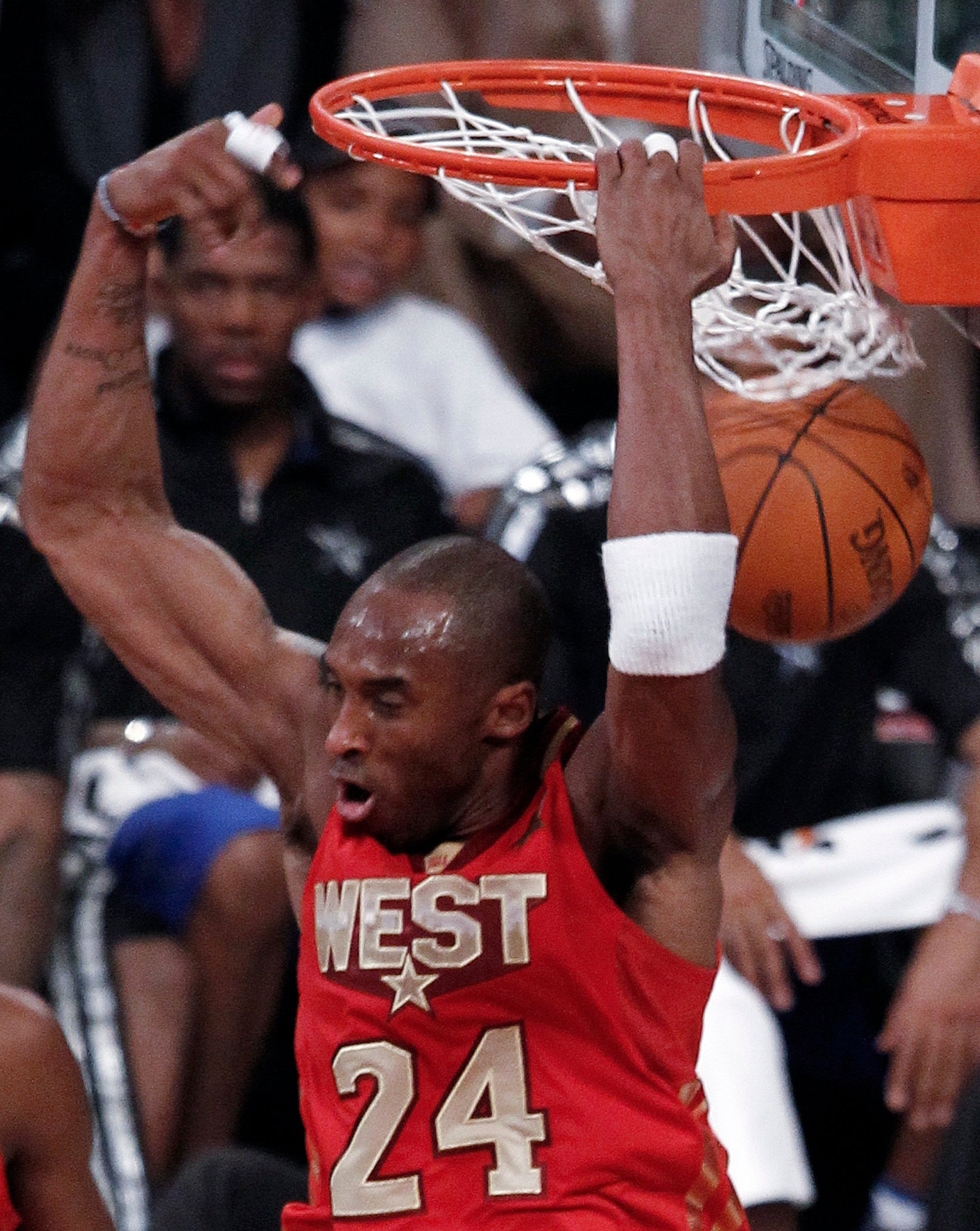 NBA All-Star game: West beats East, Kobe MVP
LOS ANGELES - Kobe Bryant won his record-tying fourth All-Star game MVP award to the delight of his hometown fans, scoring 37 points and propelling the West to a 148-143 victory over the East in the NBA's midseason showcase on Sunday night.
The Los Angeles Lakers' veteran guard put on another show among stars at the 60th All-Star game, also grabbing 14 rebounds and overcoming LeBron James' triple-double for the East.
Clearly pushing for another trophy against an East roster stacked with rival Celtics and Heat, Bryant matched Bob Pettit's NBA record with his fourth MVP award in just 10 years.
James had 29 points, 12 rebounds and 10 assists for the East, but Miami teammate Dwyane Wade scored 14 points before limping off in the third quarter.
NBA scoring champion Kevin Durant had 15 points and the Lakers' Pau Gasol added 12 as the West took on an East team with a combined seven players from Boston and Miami, arguably the top contenders to replace the back-to-back champion Lakers.
Miami's Chris Bosh scored 12 points, and teammate Dwyane Wade had 10 for the East.
Carmelo Anthony had two points while missing four of his five shots in nine minutes as a West starter -- and perhaps the NBA's most coveted player was a bit distracted.
The Nuggets forward apparently spent the weekend working on his agonizingly protracted departure from Denver. Los Angeles was abuzz with rumors of talks with management from New York and New Jersey throughout the weekend, but the 'Melodrama had no resolution before the game.
Anthony also picked up two fouls in the first 6 1/2 minutes -- no small feat in a game where officials typically swallow their whistles.
Anthony even got a smattering of boos in the first quarter when he chose a layup over a dunk on a breakaway. Bryant remedied that moments later, hovering underneath the rim before throwing down a two-handed jam on the other side.
Bryant won the All-Star MVP trophy in 2002 and 2007 before sharing it with Shaquille O'Neal in 2009. Bob Pettit holds the NBA record with four All-Star MVPs, all won with the St. Louis Hawks from 1956-62.
Boston placed a record-tying four players on the squad, led by 14-time All-Star Kevin Garnett, while the Heat sent league MVP LeBron James alongside Bosh and Wade, last season's All-Star MVP in the East's two-point win at Cowboys Stadium.
All four Celtics played together in the first quarter, and James finished the first half with six points and four assists.
Blake Griffin, the Clippers' slam dunk contest champion and the first rookie All-Star in eight years, scored six points in his first six minutes. Minnesota's Kevin Love and Oklahoma City's Russell Westbrook, former roommates at UCLA, also checked in together in the second quarter.
The glitz and superficiality of All-Star weekend fits well in Hollywood, where thousands of fans and NBA personnel had an infinite supply of party opportunities. Los Angeles hosted the game for the fifth time overall, and the second time in eight years at Staples Center.
All-Star Saturday was a thorough success, capped by Griffin's flying leap over a car for a two-handed jam to win the dunk contest. TNT reported 8.1 million viewers watched, making it the highest-rated silly Saturday in NBA history.
The All-Stars were introduced amid showers of sparks and smoke on a stage while Lenny Kravitz, who grew up in Los Angeles, provided a thumping guitar accompaniment. Los Angeles native Josh Groban provided a crisp national anthem in the same city where Marvin Gaye's R&B-inflected rendition at the 1983 NBA All-Star game forever changed the custom.
With Atlanta teammates Joe Johnson and Al Horford also making it to Los Angeles, just six teams were represented on the East roster. That familiarity came through right before tipoff, when the other four East starters joined James for his ritualistic pregame powder toss.
Moments after New York's Amare Stoudemire dunked on Tim Duncan for the first basket, Bryant hit a difficult 10-foot fallaway jumper for the West's first points.
Boston coach Doc Rivers simultaneously used all four of his All-Stars midway through the first quarter, inserting Garnett, Ray Allen, Paul Pierce and Rajon Rondo to play alongside Orlando's Dwight Howard.
Staples Center was packed with celebrities ranging from Warren Beatty to Justin Bieber, along with dozens of former players from Dolph Schayes to Magic Johnson.
Thanks for reading CBS NEWS.
Create your free account or log in
for more features.