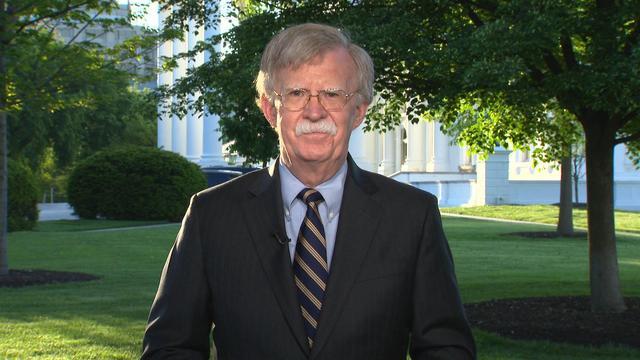 John Bolton on Iran deal pullout: U.S. not relying on "paper promises"
National Security Adviser John Bolton says the U.S. is no longer going to rely on "paper promises" and instead says the Trump administration will await "real performance to stop Iran from getting deliverable nuclear weapons" as the U.S. intends to officially withdraw from the 2015 Iran nuclear deal.
Bolton, speaking to "CBS This Morning" one day after President Trump announced his decision on the deal, says that the president's "Plan B" to the Obama-era deal is already being implemented in the form of putting "very strict U.S. sanctions back into effect." Bolton says that such sanctions will have a "ripple effect" on Iran's economy that could potentially lead to the regime giving up its ballistic missile program.
Despite persistent urging from leaders of France, Germany and the United Kingdom to not leave the deal, Bolton said the administration is still working with European allies to continue discussions "about going after Iran's other malign behavior," including terrorism and military activities in the Middle East.
"We're going to try to work with the Europeans, we have an absolutely shared common objective which is to prevent Iran from getting deliverable nuclear weapons. We have a disagreement over the efficacy of the Iran deal and that's the reason why President Trump exited from it," said Bolton.
Bolton maintains that Mr. Trump's pullout from the deal won't inch the U.S. closer to war with Iran, but claims "Iran is bringing us closer to war with its belligerent activity in Iraq and Syria."
He added, "It's that aggressive militaristic behavior by Iran on the ground in the region that's the real threat."
Thanks for reading CBS NEWS.
Create your free account or log in
for more features.