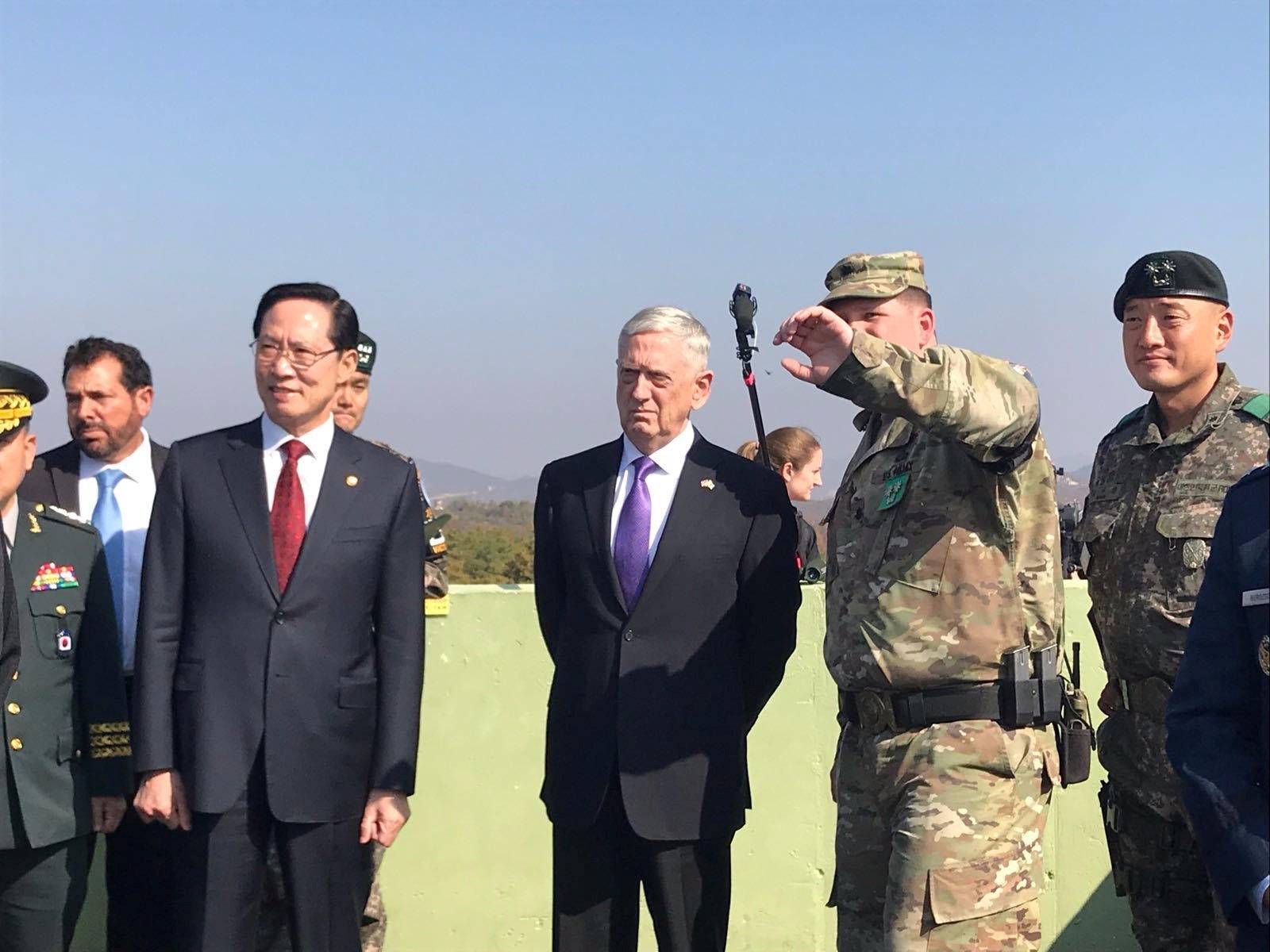 Mattis: North Korea tries to "threaten others with catastrophe"
PANMUNJOM, Korea -- On his first visit to the tense but eerily quiet frontier between North and South Korea as U.S. secretary of defense, Jim Mattis conveyed the message he hopes will win the day: Diplomacy is the answer to ending the nuclear crisis with the North, not war.
He made the point over and over - at the Panmunjom "truce village" where North literally meets South; at a military observation post inside the Demilitarized Zone, and in off-the cuff comments to U.S. and South Korean troops.
"We're doing everything we can to solve this diplomatically - everything we can," he told the troops after alighting from a Black Hawk helicopter that had ferried him to and from the border some 25 miles north of central Seoul.
"Ultimately, our diplomats have to be backed up by strong soldiers and sailors, airmen and Marines," he added, "so they speak from a position of strength, of combined strength, of alliance strength, shoulder to shoulder."
At Panmunjom, where the armistice ending the Korean war was signed in July 1953, Mattis quoted Secretary of State Rex Tillerson as saying, "Our goal is not war." The aim, he said, is to compel the North to completely and irreversibly eliminate a nuclear weapons program that has accelerated since President Trump took office.
Despite unanimous condemnation by the U.N. Security Council of the North's missile launches and nuclear tests, "provocations continue," Mattis said.
Meanwhile, North Korea said Friday it would send back a South Korean fishing boat and its crew who were detained for crossing the eastern sea border between the rivals. While the North's state media said the decision was based on humanitarian grounds, experts said it wasn't clear whether the repatriation reflected intentions to improve relations with the South.
The announcement by the Korean Central News Agency came hours before U.S. Secretary of Defense Jim Mattis visited the DMZ.
As Mattis arrived at Panmunjom alongside South Korean Defense Minister Song Young-moo, a small group of apparent tourists watched from the balcony of a building on North Korea's side of the line that marks the inter-Korean border. Uniformed North Korean guards watched silently as Mattis and Song stood just yards away.
Atop Observation Post Ouellette, where he could see deep into North Korea and hear their broadcast taunts of the South, Mattis listened to Song recount some of the history of the 1950-53 Korean war in which thousands of Americans and perhaps more than a million Koreans died in a conflict that remains officially unsettled.
"It reminds us that we fought together in very difficult times, and we stick together today," Mattis said inside a Demilitarized Zone of craggy terrain, millions of landmines and ghost-like reminders of the war.
The U.S. has about 28,500 troops based in South Korea and has maintained a military presence there since the Korean War ended.
Mattis's counterpart, Song, gave the former four-star Marine general the lay of the land, noting that the North has 342 long-range artillery pieces aimed at Seoul, among other weapons. That's a threat that cannot be defended against, Song said, so Washington and Seoul must come up with "new offensive concepts" to be able to eliminate the artillery before it can be used, should war break out.
Mattis called the North "an oppressive regime that shackles its people, denying their freedom, their welfare and their human dignity in pursuit of nuclear weapons and their means of delivery in order to threaten others with catastrophe."
He noted that earlier this week in the Philippines, he and Song joined Southeast Asian defense ministers in committing to a diplomatic solution to the North Korea problem, even though Pyongyang and its young leader, Kim Jong Un, show no interest in negotiations.
Two other developments Thursday showed the U.S. intention to continue building diplomatic and economic pressure on Pyongyang. The Trump administration imposed sanctions on 10 North Korean officials and organizations over human rights abuses and censorship, including a diplomat in China accused of forcing North Korean asylum seekers home.
Meanwhile, a rare military exercise involving three of the U.S. Navy's aircraft carrier strike groups was being planned for next month in the Asia Pacific, a U.S. official said. The likely exercise would happen around the time that Mr. Trump travels to the region, including to Seoul.
The three Navy carriers and the ships that accompany them are currently thousands of miles apart in the Indian Ocean and the Pacific. But they are moving through the region and could be closer together in weeks.
Mr. Trump entered office declaring his commitment to solving the North Korea problem, asserting that he would succeed where his predecessors had failed. His administration has sought to increase pressure on Pyongyang through U.N. Security Council sanctions and other diplomatic efforts, but the North hasn't budged from its goal of building a full-fledged nuclear arsenal, including missiles capable of striking the U.S. mainland.
On Saturday, Mattis will be joined by Gen. Joseph Dunford, chairman of the Joint Chiefs of Staff, in annual consultations with South Korean defense officials. They are expected to admonish North Korea, vow to strengthen allied defenses, and discuss prospects for eventually giving South Korea wartime control of its own forces.
Thanks for reading CBS NEWS.
Create your free account or log in
for more features.