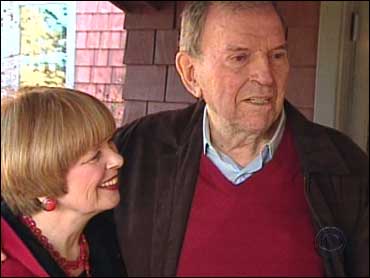 Matchmaking Cupid Loves Giving To Charity
Internist Dr. Sheena Kong can cure many ills, but her love life needed emergency care.
"I was kind of bummed out about dating," Kong said.
Then she met Joe Noel. Now they're half-way down the aisle, CBS News correspondent Michelle Miller reports.
"I like to keep it a secret," she said.
Kong and Noel give credit to a matchmaker.
"They are the cutest couple," said Pari Livermore.
Admittedly old-fashioned, Livermore is the matchmaker who brought them together. She's helped over 200 couples tie the knot.
"A lot of it is done on my intuition," she said.
From her home office in Northern California, she works by referral only, tirelessly nudging couples together.
On the phone in her office, she says: "he is so handsome, and I think you'll like him."
In a city known for romance, it's no surprise that lonely hearts looking for love might ask for a little help. But to get it, they've got to pull out their checkbooks.
Livermore doesn't work cheap. Her fees start at $2,000.
"Sometimes I've had guys who've given me $20,000 or $50,000!" she said.
But unlike matchmaking services online and elsewhere, all the money from this cupid driven venture goes to charity.
Outside of the St. Francis Center, Miller asked Sister Christina Heltsley how much the building cost.
"It was $4.7 million," she said.
Livermore's matchmaking fees go to charities like the St. Francis Center, where Heltsley offers immigrants food, English lessons, and school for their kids. Livermore's donations are enough to make a nun root for romance.
"I hope that she, you know, matches a lot more couples," Heltsley said.
Livermore said: "I have found a way that I can help."
Helping hearts unite, Livermore says, has helped her raise $3 million - and hundreds of volunteers for good causes.
"I think there should be a Pari in every town," her husband, Putnam Livermore, said.
Her biggest fan and best reference: her husband of nearly 20 years.
"The best match I made was the one I made for myself," she said.
For this cupid, charity clearly begins at home.

Thanks for reading CBS NEWS.
Create your free account or log in
for more features.