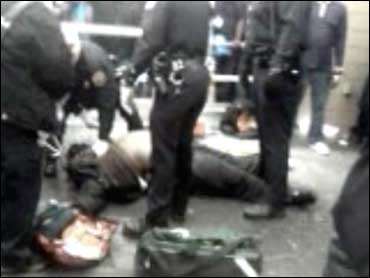 Man Dies After Wal-Mart Stampede
A worker died after being trampled by a throng of unruly shoppers when a suburban Wal-Mart opened for the holiday sales rush Friday, authorities said.
At least three other people were injured.
Wal-Mart Stores Inc., in Bentonville, Ark., would not confirm the reports of a stampede but said a "medical emergency" had caused the company to close the store, which is in Valley Stream on Long Island.
Nassau County police said the 34-year-old worker was taken to a hospital where he was pronounced dead at about 6 a.m., an hour after the store opened. The cause of death was not immediately known.
A police statement said shortly after 5 a.m., a throng of shoppers "physically broke down the doors, knocking (the worker) to the ground." Police also said a 28-year-old pregnant woman was taken to a hospital for observation and three other shoppers suffered minor injuries and were also taken to hospitals.
The exact cause of death will be determined by the Medical Examiner's office, detectives said.
The dead worker's name was not released.
"Local authorities are looking into the situation," said Wal-Mart representative Dan Fogleman. But he said it would be "inappropriate for me to share any additional information" until authorities investigate further.
Also, in Missouri, a vehicle hit two Black Friday shoppers, according to KCTV. It wasn't clear how badly they were hurt, but both of the victims were alert when police arrived. Read more.
Shoppers around the country lined up early outside stores in the annual bargain hunting ritual known as Black Friday. Many stores open early and stay open late. The Valley Stream Wal-Mart usually opens at 9 a.m.
Thanks for reading CBS NEWS.
Create your free account or log in
for more features.