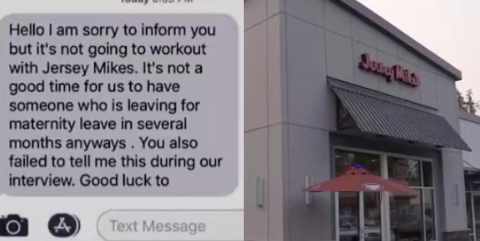 Woman says she was fired via text message with manager saying it's "not a good time" for her maternity leave
A pregnant Washington state woman said she was fired via text message from a sub shop where worked, with a store manager telling her "it's not a good time to have somebody who is leaving for maternity leave in several months anyway." Kameisha Denton told CBS Seattle affiliate KIRO-TV that she had told the manager she was pregnant and due in December, asking for maternity leave.
Denton said she realized that she hadn't been assigned shifts at Jersey Mike's sub shop in Marysville, Washington, so she sent a text to her manager inquiring about the hours. The response she says she received was shocking.
When Denton asked for her "updated schedule" she received something a bit different. The store manager named only as "Marcos" in Denton's phone responded, "I am sorry to inform you but it's not going to work out with Jersey Mikes. It's not a good time to have somebody who is leaving for maternity leave in several months anyways. You also failed to tell me this during your interview."
Denton posted the exchange on Facebook in a post that had garnered over 1,000 shares in just two days.
Denton told KIRO-TV, "I was just like in shock, it took me a minute to face reality -- I was like this is really happening."
Washington law states, "It is an unfair practice for an employer, because of pregnancy or childbirth, to: Refuse to hire or promote, terminate, or demote, a woman."
The Jersey Mike's franchise owner, Tim Trieb, told KIRO-TV. "(it) should have never ever happened…It's our policy to treat everybody equally." Trieb said the manager who sent the offending messages has since resigned.
Trieb said he offered Denton her job back, but she declined.
It looks like Denton is going to land on her feet, saying that she has received, "message after message employees wanting me to work for them...I look at it as a blessing."
Thanks for reading CBS NEWS.
Create your free account or log in
for more features.