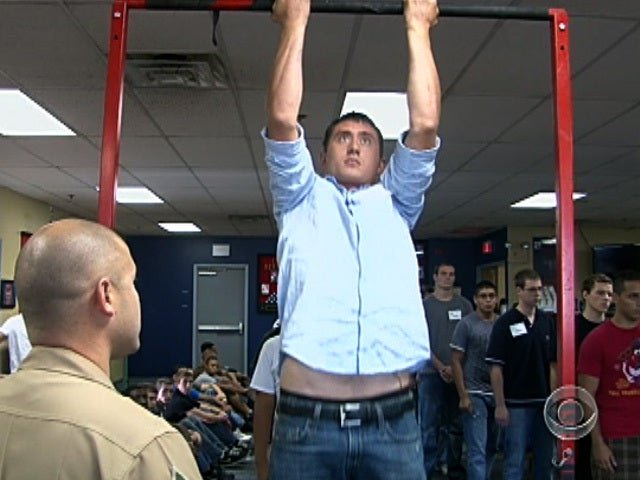 Job seekers join the military as last resort
There's no better government job creator than the U.S. military. Americans sign up for a lot of reasons, such as to serve their country and for the health and education benefits . But CBS News correspondent Michelle Miller reports, some young people are finding that the armed forces are the only employment game in town these days.
Joining the marines was not part of Tyler Mitchell's career path. He graduated with a degree in film and video last year, but he couldn't find a job in Chicago.
"The economy makes it really tough right now," said Mitchell. "People say, 'You go to college, you get a degree, you'll get a great job.' Well nowadays, I don't really think that's really the case. You go to college, you get a degree, you get a lot of debt, and you don't get a job."
"I can't get a job in the civilian world," he continued, "somebody else wants me, so why not go with them?"
Mitchell will be a combat correspondent for the Marine Corps.
"Bottom line, I'll get healthcare, I'll get financial stability, I'll get job experience," he said.
The recession has made it easier to recruit people into the military. Since 2008, the armed forces have either met or exceeded their recruiting goals for all active duty services.
Lashaun Holmes is a single mother of two in New York. The only job she could find was a part-time position that paid $185 dollars a week.
"I don't want to struggle," she said, "because it feels like you sinking in a hole. The more you struggle, the more you're sinking. It doesn't feel like you're coming out and I just want to come out."
She never considered enlisting, until she passed a recruiting center last spring. "Because of the economic situation right now, enlisting was my only option," she explained.
The decision was especially hard. She's never been away from her children, 10-year old Joi and 2-year-old Legend. The navy would not take her unless she gave temporary custody of her children to her mother.
"I don't like that fact that I'm leaving my children," said Holmes. "You try all the time to find another job so you can make ends meet and take care of your family properly. It's hard. I really feel like in the end they will be so much better off."
Lashaun will be in the navy for four years. She leaves for boot camp in February.
Thanks for reading CBS NEWS.
Create your free account or log in
for more features.