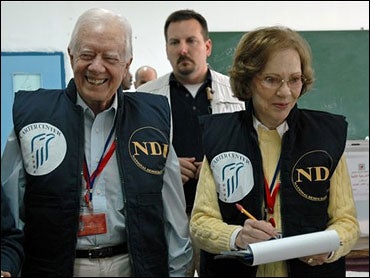 Jimmy & Rosalynn Celebrate Their 60th
Jimmy and Rosalynn Carter, fresh off of a trip to Nicaragua to monitor preparations for November's elections, plan to celebrate their 60th wedding anniversary Friday with a quiet day in their Georgia hometown.
In the long line of American presidents and first ladies, the Carters have the second longest marriage. George and Barbara Bush have been married for 61 years.
Jimmy Carter is 81. Rosalynn Carter is 78. They have four children and 11 grandchildren, and are expecting their first great-grandchild in September.
Friends and associates say two and a half decades after leaving the White House, the Carters remain as active as ever.
"They continue to be full partners in the post-presidency to this day," said Deanna Congileo, spokeswoman for the couple. "They're continuing the work of the Carter Center, strengthening democracy, advancing human rights and ending suffering around the world."
Congileo said the Carters have no fancy plans to celebrate the anniversary - "a quiet day in Plains," she said.
The couple were returning home Thursday from Nicaragua, where they headed a delegation from the Atlanta-based Carter Center to observe preparations for the Nov. 5 presidential election.
They met with Nicaraguan President Enrique Bolanos, candidates, election officials and former President Violeta Chamorro, who served from 1990 to 1996.
The partnership that has been at the center of the Carters' lives began back in 1945 Plains, Ga., when James Earl Carter Jr. began dating local girl Rosalynn Smith, who had been helping her dressmaker mom support the family following the death of her father when she was 13.
The two found time for courtship while Jimmy Carter was home on a break from the U.S. Naval Academy, and the next year, they were married.
The Carters traveled frequently in the early years of their marriage as Carter pursued his career in the Navy until 1953, when his father died and he returned home to Plains to run the family's peanut farm.
In a recent interview with The Atlanta Journal-Constitution, the former president said the couple's relationship today is different from the early years of their marriage, when he often made decisions - including retiring from the Navy and running for state Senate - without consulting his wife.
"I was embarrassingly dominant in those days," he told the newspaper.
He called such unilateral moves "almost inconceivable" now.
Thanks for reading CBS NEWS.
Create your free account or log in
for more features.