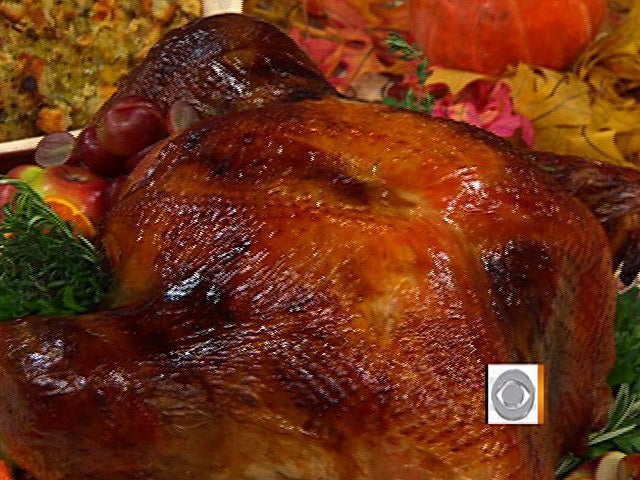 Hugh Acheson's Southern take on Thanksgiving
"Top Chef" judge and celebrity chef Hugh Acheson is known for reinventing traditional Southern cuisine with a bit of a French twist.
And, in "THE Dish" on "The Early Show on Saturday Morning," Hugh showed a different side of a traditional New England Thanksgiving meal with some sweet, Southern roasting when he shared what would be his ultimate dish for the holiday.
Not only is Hugh a judge on Bravo's "Top Chef," Season 9, he competed in "Top Chef Masters," Season 3.
When he's not dishing culinary advice on "Top Chef," he's chef/partner of the Athens, Ga. restaurants Five & Ten and The National, as well as Gosford Wine, and Atlanta eatery Empire State South.
Acheson has been nominated four-times for James Beard Awards for Best Chef, Southeast. He was also named Best Chef by Food & Wine magazine.
He also has a new cookbook, "A New Turn in the South: Southern Flavors Reinvented for Your Kitchen."
On "THE Dish," a different famous chef each week reveals what he or she would have if they could have just one meal. That's because for us, "THE Dish" is about the moment, the place, and the person you would share it with. It's about the emotion behind the food, it's about the conversation and the meal itself. We want to get to know these chefs on a deeper level and hope our viewers will, as well.
Enjoy all our "Early Show" recipes!
RECIPES:
ROASTED SWEET TEA BRINED TURKEY
Brine
1 gallon sweet tea
1 cup kosher salt
3 navel oranges, scrubbed and sliced thinly
2 tablespoons toasted coriander seed
1 teaspoon black peppercorns
2 bay leaves
8 cups ice
12-14 pound turkey, thawed, rinsed, innards removed, and patted dry
Bring the tea to a boil and add the salt, orange slices, coriander seeds, peppercorns and bay leaves. Cook until salt is thoroughly dissolved. Remove from heat, add ice and cool.
When the brine is totally cool place the brine in a 2 ½ gallon bucket and immerse your thawed bird in the brine and cover with plastic wrap. Let brine for 16 hours or so, but at least 10, in a cool spot (38-45F) preferably the fridge.
1/2 teaspoon salt
freshly ground pepper
1 large apple, quartered
1 yellow onion, peeled and cut into quarters
2 branches celery, cut into 3 inch pieces
2 sprigs fresh thyme
1 sprig rosemary
4 sprigs fresh parsley
2 tablespoons unsalted butter
Preheat oven to 450 degrees F.
Put the racks as low as possible in the oven.
Remove the bird from the brine and pat dry. Season inside and out with the salt and some pepper. Toss the apple, onion, celery, thyme, rosemary, and parsley in a large bowl and then shove into the bird's cavity. Loosen the breast skin from the breast meat by sliding your hand between them. Press butter into the void created, one tablespoon per side. Truss the turkey legs together for even cooking.
Roast the turkey at 450 for about 30 minutes and then lower heat to 350 and roast for about two hours until the temperature at the thickest part of the leg registers 160F on a meat thermometer.
LEEK & APPLE STUFFING
1/4 cup unsalted butter
3 cups cleaned and diced leeks (mostly the whites)
1 cup cored and diced firm red apple (Macintosh, Arkansas Blacks...)
1 cup small-dice celery, with leaves
1 teaspoon toasted fennel seed, ground lightly
1 teaspoon fresh sage, chopped
1 tablespoon chopped fresh thyme leaves
2 tablespoons chopped flat-leaf parsley
3 cups chicken or vegetable stock
4 cups cubed cornbread
1/2 teaspoon kosher salt
freshly ground pepper
Preheat oven to 400F
Melt half of the butter in a large pot over medium high heat. Add the leeks and sweat down for five minutes. Add the apple and celery and cook until tender, about five more minutes. Add the fennel seed, sage, thyme, parsley and cook for five more minutes. Add the stock and cook for ten minutes. Add the remaining butter, stir to incorporate and then add the cornbread. Stir carefully so as not to tear up the cornbread cubes too much and then season with salt and pepper. Stir again.
Pour stuffing into a large casserole dish and bake at 400 until crispy on top, about 20 to 25 minutes.
CORNBREAD
Serves 8
2 cups white cornmeal
1/2 cup all-purpose flour
1 teaspoon baking powder
1 teaspoon baking soda
1/2 teaspoon kosher salt
3/4 cup whole milk
3/4 cup buttermilk
1 large egg
1/4 cup bacon fat
Preheat the oven to 425°F.
In a large bowl, mix together the cornmeal, flour, baking powder, baking soda, and salt.
In a separate bowl, mix together the milk, buttermilk, and egg. Add the wet mixture to the dry mixture. Stir well to combine.
Heat a 10-inch cast-iron skillet over medium heat and add the bacon fat. When the fat is hot (not smoking), add it to the batter and stir. Pour the batter into a cast-iron skillet and place in the oven. Bake for 20 minutes.
Remove the cornbread from the oven and let it cool slightly in the cast-iron skillet, for about 15 to 20 minutes. Turn the cornbread over onto a cutting board. Cool completely, then cut into wedges to serve.
FLASH COOKED OKRA WITH ALMONDS
In late summer we get beautiful pods of Louisiana green and red burgundy okra from a number of local farms. At Empire State South, I get a lot of great comments about this okra as it conquers the sludgy okra problem that most of us dislike. Use small pods, as the bigger they get the woodier they become. This recipe relies on high heat to cook the okra quickly and they need to be enjoyed right after you finish. If you live in the Southeast, or in a temperate climate, consider growing your own okra as well. It's a beautiful plant with wonderful flowers.
Serves 4
1 tablespoon olive oil
1 tablespoon cold unsalted butter
1 pound of okra (stems removed and the pods cut long pieces on a bias)
1/4 teaspoon kosher salt
1/4 cup of sliced roasted almonds
Heat a large 12-inch fry pan over high heat. Add the olive oil and butter and when the butter is melted add the okra. Saute for 3 minutes and then season with salt and add the almonds. Toss well and remove to a platter. Serve immediately.
For a bonus recipe, go to Page 2.

YELLOW GRITS WITH SAUTEED SHIITAKES AND FRIED EGGS
Serves 4
1/2 cup yellow grits
1 teaspoon kosher salt
1/4 cup plus 1 tablespoon unsalted butter
8 ounces shiitakes, stems removed
2 tablespoons Chicken Stock (page 000)
1 tablespoon chopped flat-leaf parsley
4 large eggs
4 tablespoons Salsa Rossa

Place 2 cups of water, the grits and a 1/2 teaspoon of salt into a heavy-bottomed sauce pot and bring to a boil over medium-high heat. Whisk for a couple of minutes, reduce the heat to low, and switch to a wooden spoon as the grits begin to thicken up. Stir every 5 minutes for about 45 minutes, or until the grits have the consistency of a slightly thinner polenta.
While the grits are cooking, place a large nonstick fry pan over medium-high heat and add two tablespoons of butter. When the butter has melted, add the shiitakes and let cook for 5 minutes, stirring every minute or so. Add the chicken stock and the parsley and cook for 2 more minutes. Pour the mushrooms into a small bowl and set aside.
About 10 minutes before the grits are finished cooking, rinse out the large nonstick pan and place it back on medium-low heat. Add 1 tablespoon of butter to the pan. When the butter bubbles and froths carefully crack each egg into the pan. Let the eggs cook for 4 minutes, until the white are set but the yolks are still brilliantly yellow. The grits time should be elapsing as the eggs finish. Stir in the remaining 2 tablespoons of butter to finish the grits.
To serve, arrange 4 plates on the counter and divide the cooked grits evenly onto the plates. Arrange the shiitakes on top of the grits and finish the plates with a sunny-side-up egg and a tablespoon of salsa rossa. Eat immediately.
SALSA ROSSA
Makes about 2 cups
1/4 cup plus 2 tablespoons extra virgin olive oil
1 large red pepper
1 /4 cup extra virgin olive oil
6 garlic cloves, peeled and nub end removed
1 shallot, minced
2 ripe roma tomatoes, peeled, seeded and diced
1 small red jalapeno chile, seeded and minced
1 tablespoon chopped flat leaf parsley
1 tablespoon chopped fresh basil
1/4 teaspoon sea salt
Preheat the oven to 400 degrees F.
Rub the pepper with 1 tablespoon of olive oil. Roast in the oven on a baking sheet or over the grill until it is well charred. Remove from the heat, place in a bowl, and cover with plastic wrap for 10 minutes. The pepper will still be warm at this point so be careful as you peel, seed, and finely dice. Set aside.
MAKER'S MARK WITH SPICY GINGER SODA
Ginger Syrup
1/2 cup sugar (fine turbinado)
1/2 cup water
1/4 lb. fresh ginger root (peeled and finely grated)
In a small saucepot bring the sugar, water, and ginger to a boil. Turn off the heat, and allow to steep and cool for one hour. Strain off the ginger pieces, and reserve the syrup.
To Serve
(Makes 1)
Large ice cubes
3 oz. Maker's Mark
1 tbsp. ginger syrup
1 sliced lady apple
2 oz. soda water
Fill a 10 oz. highball glass with ice. Add Maker's Mark and ginger syrup, and stir. Add Lady Apple slices, and pour soda water to the top of the glass. Stir gently
Thanks for reading CBS NEWS.
Create your free account or log in
for more features.