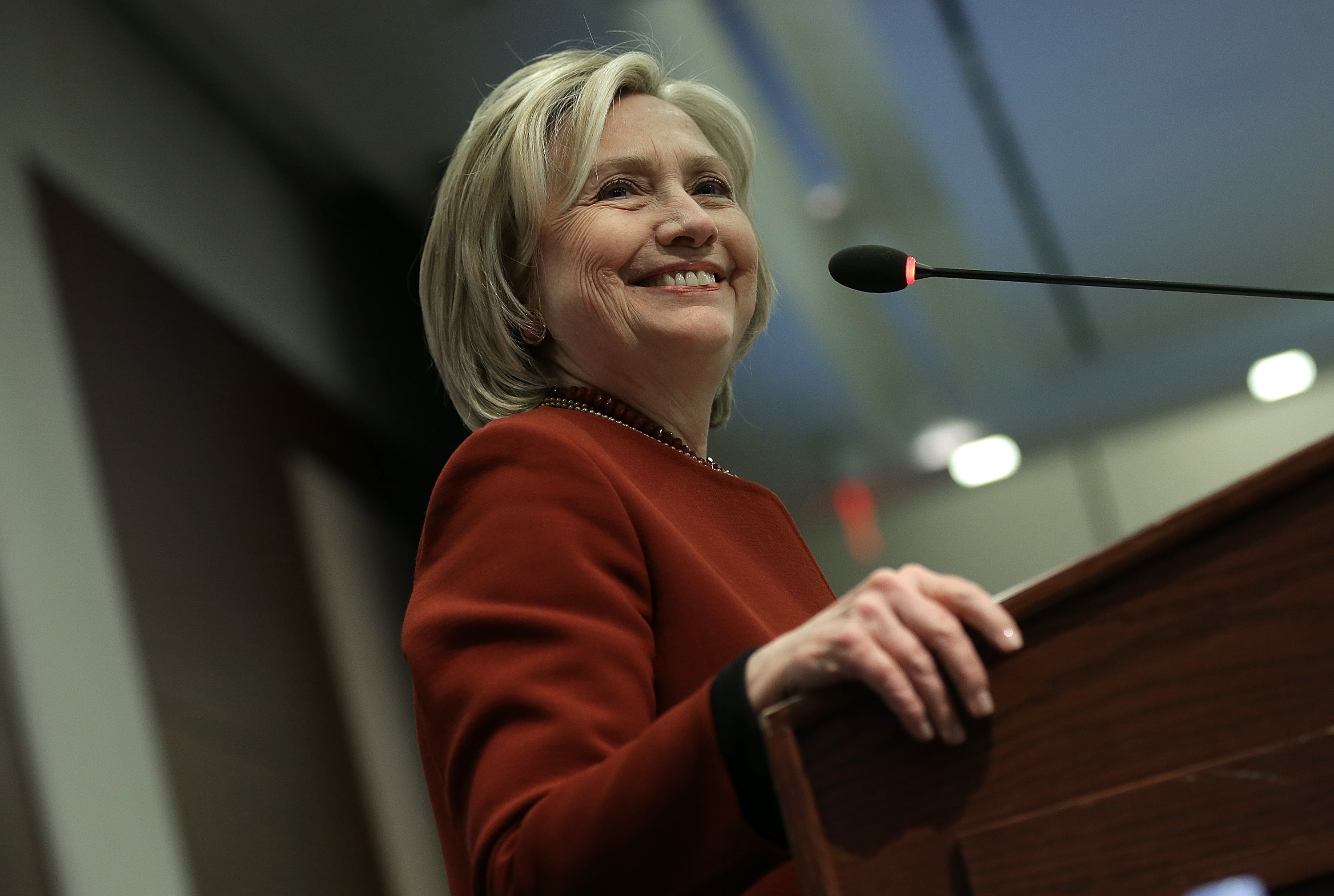 Hillary Clinton keynotes event to honor political journalism
Hillary Clinton made an unusual appearance Monday evening - she keynoted an awards ceremony to honor political journalists.
"I am well aware that some of you may be a little surprised to see me here tonight," she said to the room of about 300 people, many of them journalists. "You know my relationship with the press has been at times, shall we say, complicated."
Clinton joked that everyone had non-disclosure agreements under their seats, and then moved on to reflect on the life and legacy of Robin Toner, for whom the award was named. Toner was a longtime New York Times reporter who passed away in 2008, the first woman named to be the Times' national political correspondent. Clinton's appearance at the ceremony was a testament to her respect for Toner.
"Mostly I am here because I really admired Robin, I admired her approach toward covering the events that I was involved in, directly, starting in the 1992 presidential campaign, when she covered that campaign," Hillary explained.
Toner, who was also the Times' lead reporter for Bill Clinton's 1992 presidential run, sat down with Hillary Clinton for multiple interviews, the last one in 2007 when they spoke about healthcare. Clinton had just rolled out her healthcare plan for the 2008 presidential campaign.
"We had a long substantive conversation about what I had learned what the country had learned from the '93, '94 experience," Clinton reflected, describing Toner as a reporter who immersed herself in the details and hammered questions of substance in a way that was "totally fair."
Clinton held up Toner, known to be a tough, meticulous reporter, as an example to be emulated even as the journalistic landscape changes. She challenged the journalists in the room to be thorough and measured.
"You are facing fundamental questions that may not fit into 140 characters but are nonetheless vital to our democracy. I think the stakes are really high," Clinton said. "Too many of our most important debates occur in what I call an evidence-free zone, ideology trumping facts, made-for-cable shout-fests, twitter storms, drowning out substantive dialogue and reporting that often leads to shallower more contentious politics and even no or not the best public policy."
On the same day that Sen. Tex Cruz (R-TX) renewed his commitment to repealing Obamacare, as a part of his speech announcing that he would run for president in 2016, Clinton talked about her policy priorities, should she decide to run for President. She'd still fight to expand healthcare to more Americans, she said, but hinted that she might be open to slight alterations to Obamacare.
"We should be exploring those [questions about the future of healthcare] but at the same time trying to ask ourselves how to improve the Affordable Care Act," Clinton said, adding "there is so much more to do."
Clinton also praised Toner's twins -- noting that one of them, the editor-in-chief at her high school newspaper, might "Meerkat us at any moment."
Despite what most would concede have been tough weeks for her in terms of the media attention paid to her email accounts and foreign donations to her family foundation, Clinton closed with a pitch for journalism, saying, "We need, more than ever, smart, fair-minded journalists to challenge our assumptions, push us toward new solutions and hold all of us accountable."
Thanks for reading CBS NEWS.
Create your free account or log in
for more features.