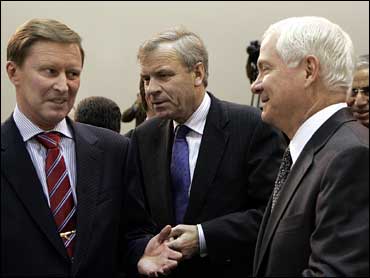 Gates: Iranian Weaponry Found In Iraq
Serial numbers and markings on explosives used in Iraq provide "pretty good" evidence that Iranians are providing either weapons or technology for militants there, Defense Secretary Robert Gates asserted Friday.
Gates' comments made official the Iran weapons connection first reported by CBS News at the end of January, when officials told national security correspondent David Martin that serial numbers on parts used to make advanced explosive devices, powerful enough to breach the armor on an American tank, had been traced directly back to Iran.
The officials also told Martin rocket-propelled grenade launchers and assault rifles found in Iraq had Iranian factory markings.
Offering some of the first public details of evidence the military has collected, Gates said, "I think there's some serial numbers, there may be some markings on some of the projectile fragments that we found," that point to Iran.
At the same time, however, he said he was somewhat surprised that recent raids by coalition and Iraqi forces in Iraq swept up some Iranians.
Just last week, Gates said that U.S. military officers in Baghdad were planning to brief reporters on what is known about Iranian involvement in Iraq but that he and other senior administration officials had intervened to delay the briefing in order to assure that the information provided was accurate.
Speaking to reporters at a defense ministers' conference in Seville, Spain, Gates said Friday, "I don't think there was surprise that the Iranians were actually involved, I think there was surprise we actually picked up some."
He and other U.S. officials have said for some time that Iranians, and possibly the government of Iran, have been providing weapons technology, and possibly some explosives to Iraqi insurgents.
But, Bernie Kaussler, an associate fellow at the University of St. Andrews' Institute for Iranian Studies, tells CBSNews.com that he's not convinced top Iranian officials are involved in weapons smuggling.
"There are so many players in Iranian politics, many times the left hand doesn't know what the right hand is doing. That might well be the case," he explains. "It is possible that there are a few hotheads supplying weapons and support without the central government knowing."
The improvised explosive devices (IEDs) have been a leading killer of U.S. forces in Iraq, where more than 3,000 servicemen and women have died in the nearly four-year-old war.
Iranian President Mahmoud Ahmadinejad has denied his government is supporting Iraq's militias with money or weapons.
The IEDs have been a leading killer of U.S. forces in Iraq, where more than 3,000 servicemen and women have died in the nearly four-year-old war.
Gates, who is attending his first NATO defense ministers meeting, said Iran is "very much involved in providing either the technology or the weapons themselves for these explosively formed projectiles. Now they don't represent a big percentage of the IED attacks but they're extremely lethal."
Gates said the raids combined with the movement of an additional U.S. aircraft carrier into the Persian Gulf have created a stir, but said the Bush administration has no intention of attacking Iran.
In other developments:
An al Qaeda-linked insurgent group posted
U.S. helicopters mistakenly killed at least five Kurdish troops Friday in a friendly fire incident against forces Washington hopes to partner with to secure Iraq, U.S. and Iraqi officials said. The deaths occurred in eastern Mosul at about midnight. The U.S. military said the airstrike was targeting al Qaeda fighters, but later issued an apology, saying the five men killed had been identified as Kurdish police. Kurdish officials put the casualty toll at eight killed and six wounded
The military also said three U.S. soldiers died Thursday in fighting in Anbar province, an insurgent stronghold west of Baghdad, bringing the total number of U.S. military deaths in Iraq this month to 33. The deaths raised to at least 3,117 members of the U.S. military who have died since the Iraq war started in March 2003, according to an Associated Press count.
Police said gunmen dressed in Iraqi army uniforms swept into a village south of Baghdad, kidnapping 13 civilians and killing at least 11 of them. The attack occurred in Imam, a predominantly Shiite village about 47 miles south of the Iraqi capital. Police later found 11 bodies with gunshot wounds to the head and chest, and they were believed to be those who had been kidnapped, police and the Iraqi army said.
A roadside bomb killed one British soldier and wounded three others in southern Iraq on Friday, the British military said. The attack occurred at an intersection about 3 miles southeast of Basra, according to a spokeswoman for British forces in Iraq. The latest casualties bring to 101 the number of British military deaths attributed to hostile action since the U.S.-led invasion in 2003, according to Britain's Ministry of Defense.
The Iraqis want to put him on trial for allegedly supporting terrorists, but an American who once served in the Minnesota National Guard won't be facing those judges for now. A federal appeals court in Washington ruled that Shawqi Omar, a citizen of both Jordan and the U.S., has a right to argue for his release before a U.S. court. For the last two years he's been held at a prison in southern Iraq without formal charges and, his family says, without access to counsel.

Thanks for reading CBS NEWS.
Create your free account or log in
for more features.