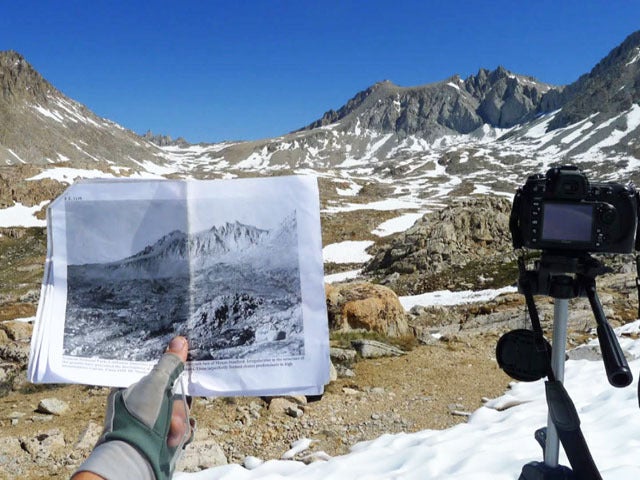 Friends document shrinking glaciers
(CBS News) ESTES PARK, Colo. -- For Ned LeBlond and Jonathan Byers, what might seem like a spring hike into the Rockies is actually a journey to help people actually see what is meant by climate change.
They met three years ago in the Sierra Nevada and channeled their passion for photographing the outdoors with their interest in science and have launched the Alpine of the Americas Project.
"We're looking at these little details -- where this ridge overlaps here, where the river runs there, how these trees line up," Byers explains.
They scale mountain ranges from North to South America, locating exactly where historic photos were taken. Then they retake the scene from that same vantage point.
"This project gives us a visual way to see a glacier, a snowfield that used to exist 50 to 100 years ago that's no longer there," Byers says.
Study: Extensive glacial melting on Mount Everest
Carbon dioxide levels highest in recorded human history
Scientists link climate change to increased ice in the Antarctic
Photos of a Disappearing "Planet Ice"
"We're also helping scientists tell the story," adds LeBlond. "Because the graphs, the charts, the math, the language is incomprehensible to so many people, and that's what the photos do so well."
So far, they've taken 85 of what they call "repeat photos," revealing glaciers in retreat and the stark changes to the surrounding lakes and forests that accompany them.
"Sometimes you just walk around the corner and hold up that photo and almost my stomach drops," Byers says.
Their project has taken them to California's Sierra Nevada, where the ice is retreating at a rate of half an inch every day.
To the south, in Patagonia's Andes Mountains, the once prominent Stokes Glacier has been disappearing over the last century.
Asked whether they see themselves as telling a story or sounding an alarm, Byers says, "For us, it's more about understanding ... It's not something to be terrified of, because when people are afraid of things it's hard to take action."
"What we're trying to help them do is help them understand that they are connected to the mountains in very real ways," LeBlond says.
Because seeing is believing.
Alpine of the Americas Project
Project rePhoto
Earth science photographic archive
Thanks for reading CBS NEWS.
Create your free account or log in
for more features.