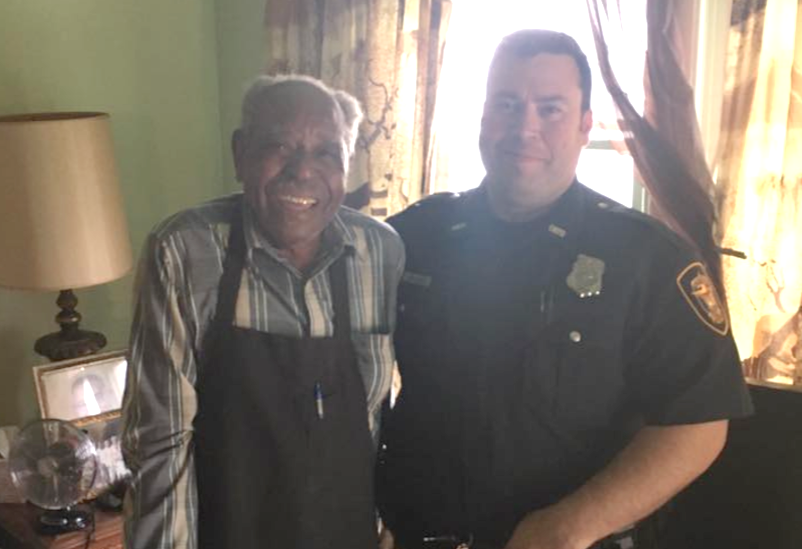 Fort Worth police officers, strangers buy 95-year-old man new air conditioner
With temperatures topping 90 degrees in Fort Worth, Texas, last week, residents without air conditioning certainly had a lot to complain about, especially 95-year-old Julius Hatley.
But Hatley made the best of his situation, sitting on his porch in the shade to keep cool. He even continued his yard work, despite the unbearable heat.
On Thursday, the 95-year-old's luck took a turn.
Drenched in sweat, the man called the Fort Worth Police Department to report his broken air conditioner.
"This wasn't a regular 911 call," Fort Worth Officer William Margolis told CBS News. "It was what you'd label 'low priority' because we're not AC techs."
After responding to a few other calls first, Margolis and his partner, Christopher Weir, made their way to Hatley's home, where they discovered both his central air conditioning and window unit were broken.
"When we got there around 8:30 a.m. his house was 85 to 90 degrees already," Margolis said. "In Texas, it gets hot."
After talking over the situation with his partner, Margolis promised the man he'd find a solution. In the meantime, Hatley tried his best to keep from overheating.
"It went out last night... so I had to sit on my porch," Hatley told CBS Dallas/Fort Worth. "My porch is cool."
Margolis couldn't shake the image of the elderly man sitting in his home in the sweltering heat, so he decided to make a pit stop at Home Depot and Weir agreed.
The officers asked employees for help finding a good air conditioning unit, explaining Hatley's situation in the process.
The Home Depot workers were so touched by the officers' kind gesture, they offered to pitch in their own money, too.
"While there, Home Depot managers and employees decided to contribute $150 of their own money to help with the cause," Weir's wife, Jennifer, wrote on Facebook. "This is what being an officer is about."
Weir, along with another co-worker, Officer Steven Rebrovich, helped Margolis install the air conditioning unit inside Hatley's home later that day.
And Hatley couldn't have been happier -- he even posed for a few pictures with the officers afterward.
"He was actually really excited," Margolis recalled. "He said he knew if he needed help to call 911 and we actually were able to help him, so he was really excited about it."
"I appreciate that," Hatley told the officers as they finished installing the unit.
The goodwill doesn't stop there.
"Since the story was [first shared], we have all worked on getting his central air replaced and a company came forward to do so, completely for free." Jennifer Weir told CBS News. "We are also currently working on getting his windows replaced, his house repainted and groceries every week."
Margolis said he plans to make a point of checking in on Hatley from time to time.
"He's 95 years old and he's a World War II veteran," Margolis said. "He's a hero. In our eyes he's our hero."
Thanks for reading CBS NEWS.
Create your free account or log in
for more features.