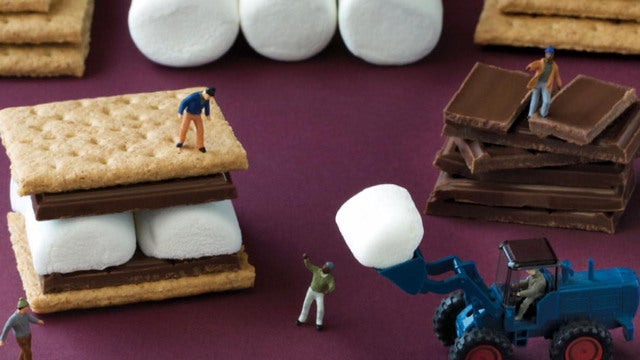 Anything but child's play: Magical world of miniatures
Have you ever ever seen a treehouse in a bonsai plant? Miniatures like these offer a tiny glimpse into our world. For centuries, the magical world of miniatures have captivated our imaginations, reports CBS News correspondent Mark Albert.
A few minutes' drive north of acres of blooming skyscrapers in downtown Los Angeles is another construction site with lots of wood, but no blueprints.
"I am an incurable dreamer. Everything is imagination for me," said its architect, foreman and interior designer, Jed Voltz.
Voltz is six-foot-seven, living in his own little world. He's a master of miniatures. From his home in Silver Lake, he crafts intricate treehouses with his hands, and tall tales with his mind. For each of his creations, he constructs an elaborate story.
"I call this the collector's cabin," he said of one. Its inhabitant is a "white-bearded, desert rat kind of guy, prospector-y type living in this, and running around and adjusting the little lenses and drinking some desert grog."
Among the furnishing: a tiny sailboat. "It reminds him of the days on the ocean before he moved out here to the dry world," he said.
By day, Voltz brings other people's creations to life, as a prop maker for commercials, music videos, TV shows and movies. But in his spare time, he uses bonsai plants at his muse.
At a recent art gallery show, his whimsical treehouses sold out in six hours, going for between $500 to $800 a piece.
Voltz describes this as his escape. "It's very meditative," he said.
"An escape from the real world?" Albert asked.
"Into a smaller version of the real world, yeah!"
It's that escape into the world of miniatures that seems to make us long for where we can't go,or lives we can't live.
Photographer Christopher Boffoli told us about his "Big Appetites" series in 2014.
"I like to give the figures a destiny; treat them like characters," Boffoli said.
The character of the miniatures displayed at the Art Institute of Chicago is in their grandeur and elegance. The Thorne Miniature Rooms showcase life from the 13th century to World War II, with our evolving styles, tastes and quirks.
"They're just mesmerizing," said curator Lindsay Mican Morgan. "They've been here since the '30s. Many people recall coming here with their grandparents, and now they're bringing their grandchildren. They work to kind of charm people into being interested in art."
Then there are the miniatures that teach, like how to spy tiny clues. The "Nutshell Studies of Unexplained Death" were created by hand -- mostly in the 1940s -- by eccentric Chicago heiress Frances Glessener Lee. Her nearly two dozen scenes are "Death in Diaorama" -- her miniature depictions of actual homicide cases.
The Office of the Chief Medical Examiner of Maryland inherited 18 of them nearly 50 years ago, and still uses them every year for a homicide seminar, to help teach detectives how to crack a case.
And then there's a dollhouse to die for, built in the 1830s with original wallpaper, a gilded mirror and a four-poster bed. It's one of a dozen historic dollhouses on loan from the Victoria and Albert Museum in London -- part of a "Small Stories" exhibit at the National Building Museum in Washington, D.C.
"They are fabulous and fascinating and adorable," said Cathy Frankel, head of exhibitions. "People come in here and they smile, they gasp a little, when they see some of these that are so elaborate. It takes your breath away."
"What does it say about us as human beings, that we are so captivated with something that we can't really play with, we can't really touch, we can just see a tiny little window into this world?" Albert asked.
"It is that window in the world, it is that longing. I think with these it's longing for another time and another place," Frankel said.
That longing for another world drew in Nancy Wright, of Florida, and Adrian Garcia, who visited with his class.
"Well, sometimes I imagine, like, if I was in there, what would I do?" Garcia said.
It's an allure that is timeless and ageless, just like the dollhouses, one of which -- the Edmund Joy Wardrobe -- is 304 years old.
For visitor Suzanne Bell of Maryland, it's a glimpse into her family's history.
"I was just thinking about my grandfather who died in 1963 at age 93, and he was born in London. So he was born in 1870, and lived in a sizable home," Bell said. "That's what I'm trying to think of, my grandfather, and just trying to imagine what his life was like."
And that's the enduring power of miniatures. Whether it's dollhouses or one-square-foot dream homes that cap off the exhibit, powerful emotions come out of small spaces -- even if your imagination has to go out on a limb.
Thanks for reading CBS NEWS.
Create your free account or log in
for more features.