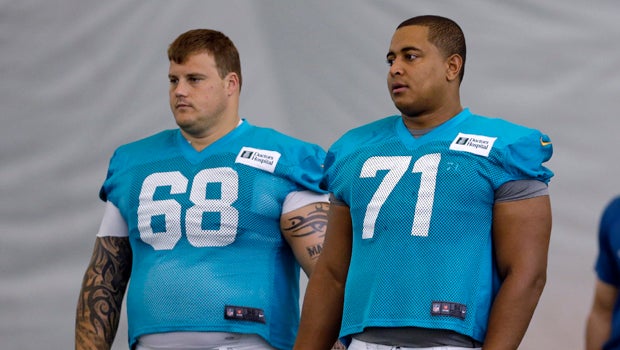 End of the road for Jonathan Martin with Dolphins
SAN FRANCISCO -- Jonathan Martin is returning to familiar territory, months after he accused a teammate of bullying and left the Miami Dolphins.
The offensive tackle is headed back to the Bay Area to play for Jim Harbaugh - again.
Martin was traded from Miami to the San Francisco 49ers on Tuesday night, reuniting the lineman with his college coach at Stanford and a supportive coaching staff he knows well. In fact, Harbaugh publicly expressed his support of Martin last year and called him a "personal friend."
The Dolphins announced the move late on the first day of NFL free agency. San Francisco then confirmed the trade, saying only that it would send an undisclosed draft choice to Miami and that Martin still must pass a physical to complete the deal.
"Big news.... Beyond Blessed ... Opportunities are few in the NFL... Can't wait to get to work (hashtag)9erEmpire," Martin posted on Twitter.
The 24-year-old Martin's move cross country brings him back to Northern California, but he is already in town - back on the Stanford campus taking classes.
"This is great for him to get back on the field and he's in Palo Alto right now. It couldn't be much better," his agent, Ken Zuckerman, said in a phone interview. "I just think everyone wanted this to happen. Harbaugh knows Jonathan, I think the Dolphins were compensated and Jonathan wants to get back on the field. It's a good day."
An investigation for the NFL determined last month that Dolphins guard Richie Incognito and two other offensive linemen engaged in persistent harassment of Martin, another offensive lineman and an assistant trainer.
"As far as that situation, there's only one thing I can intelligently comment on and that's knowing Jonathan Martin," Harbaugh said in November. "I know him to be a fine person and his family. ... (He) epitomizes the student-athlete model and a personal friend. I support Jonathan."
The trade capped a busy first day for the 49ers, who lost to the Super Bowl champion Seattle Seahawks in the NFC championship game.
Martin left the Dolphins in late October, underwent counseling for emotional issues and alleged he was harassed by teammates. Incognito was then suspended for the final eight games.
"We feel that this move is in the best interests of all parties involved," Dolphins general manager Dennis Hickey said. "We wish Jonathan well."
Martin, observes CBSSports.com NFL Writer Will Brinson, "bolted from the Dolphins and never returned. No one believed he could come back and now he won't. ... For Miami, there was little choice but to go in a different direction with Martin. Regardless of what you think about Martin's role in the whole harassment scandal, it would be difficult for him to return to the Dolphins locker room."

After a report on the investigation was released last month, the Dolphins fired offensive line coach Jim Turner and longtime trainer Kevin O'Neill. Incognito and guard John Jerry, who was also implicated in the report, became free agents Tuesday and aren't expected to play for the Dolphins again.
Incognito has recently received treatment in the wake of the scandal. He sent tweets in recent weeks that varied dramatically in tone, including a rant blasting Martin that quickly went viral.
Martin's departure from the Dolphins had been expected. Owner Stephen Ross said in January that he didn't expect Martin to play for the team again.
The investigation for the NFL found a pattern of harassment on the Dolphins, with Martin the primary target of vicious taunts and racist insults that occurred almost daily. The report said teammates threatened to rape Martin's sister, called him a long list of slurs and bullied him for not being "black enough." Martin is black and Incognito is white.
The troubled relationship between Martin and Incognito drew national scrutiny and stirred a debate about bullying. Martin said he tried to be friends with Incognito despite their diverse backgrounds.
Martin was a classics major at Stanford, while Incognito, 30, was kicked off his team at Nebraska and went on to develop a reputation as one of the NFL's dirtiest players.
Martin, who protected Andrew Luck's blind side at Stanford, was a second-round draft pick by Miami in 2012. He became a starter as a rookie but struggled at times while being shuffled between right and left tackle.
Last year, he was part of an offensive line that allowed a franchise-record 58 sacks. The Dolphins began revamping their line Tuesday by agreeing to terms with Pro Bowl left tackle Braden Albert.
Martin has two years remaining on his contract and has a base salary of $824,933 this year.
Pro Bowl center Mike Pouncey is the only offensive lineman involved in the bullying scandal still on Miami's roster.
Thanks for reading CBS NEWS.
Create your free account or log in
for more features.