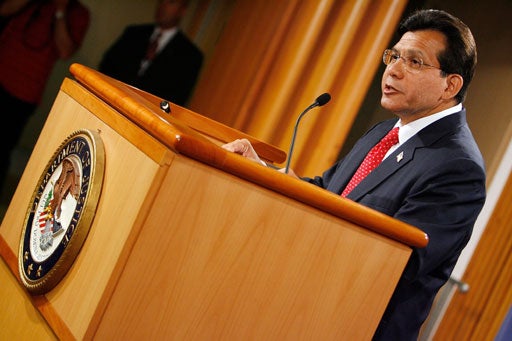 Distracted Mom Found Innocent
A mother who testified she was distracted and running late for work when she left her 7-month-old daughter in her minivan was found innocent Monday in the girl's death.
Judge Paul Huscher found Kari Engholm innocent of involuntary manslaughter and neglect of a dependent person in the June 26 death of her daughter, Clare. Temperatures were near 90 that day and the girl died from overheating.
"We're very pleased with Judge Huscher's decision," Engholm said outside the Dallas County Courthouse. Engholm said Huscher, who heard the case without a jury, recognized that Clare's death was a "heartbreaking, tragic accident."
Defense attorneys had said in closing arguments that prosecutors had failed to prove that Engholm had acted recklessly. The judge agreed, saying Engholm did not consciously forget about her child and so did not act with reckless disregard for her daughter's safety.
"The court cannot hold the mother accountable in a criminal proceeding, even for reprehensible conduct, if that conduct does not fall within the statutory elements of the crime charged," he said.
A prosecutor expressed disappointment.
"The way this verdict reads, then if somebody just forgot, then there is no case," county attorney Wayne Reisetter said.
Engholm, 35, an administrator at Dallas County Hospital, testified at her trial that she routinely took Clare to a baby sitter and then took her 3-year-old son, Eric, to a day care center.
On that day, she was running late and dropped her son off first. She then drove to the hospital and went to work, forgetting that her daughter was still in the minivan. She said she was preoccupied with some meetings coming up at work.
"The fact remains that we've lost a member of our family and our family will never be the same," she said. "She's in our hearts and minds every day."
Engholm found her daughter's body in her car seat when she returned to the day care center to pick up her son. One defense witness who went there to be with her testified that her friend had "the most awful look. Her face — I can't even describe the grief she was feeling."
Engholm said she felt as though she had been judge harshly by public opinion.
"There's probably nothing I can say to those people, but it's probably a small segment of people," she said. "Tragedies happen every day. We're all human, we're all fallible. This could have happened to anyone."
© MMI The Associated Press. All Rights Reserved. This material may not be published, broadcast, rewritten, or redistributed
Thanks for reading CBS NEWS.
Create your free account or log in
for more features.