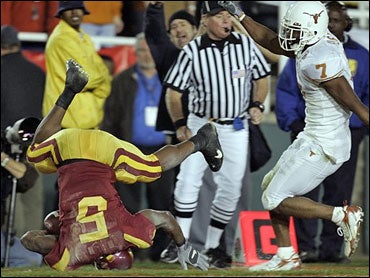 Did Reggie Bush Get $100K Under Table?
New Orleans Saints running back Reggie Bush and his family appear to have accepted gifts, money and other benefits worth more than $100,000 from two marketing agents while the Heisman Trophy winner was still playing at Southern California, according to a report posted Thursday on Yahoo.com.
The report says Michael Michaels, a marketing agency investor who wanted to represent the football star, and current Bush marketing agent Mike Ornstein lavished Bush and his family with gifts while he was still at USC, each hoping to entice him to sign with them once he left school.
Bush eventually chose Ornstein, which caused a falling out between Michaels and Bush's family.
Speculation over whether Bush and his family received money arose earlier this year in reports that his mother and stepfather didn't pay $54,000 in rent during the year they lived in a house owned by Michaels, who later said the family promised to repay him once Bush went pro.
The NCAA prohibits student-athletes and their families from receiving extra benefits from agents or their representatives. Any improper benefits could lead to NCAA sanctions against USC and retroactively cost Bush his college eligibility and Heisman Trophy.
The report was based on an eight-month investigation by Yahoo Sports, citing documents and interviews with on-the-record sources close to the situation. It lists several instances in which Bush and his family appear to have received financial benefits, including:
Suits for Bush's stepfather and brother to wear during the Dec. 10, 2005 Heisman ceremony in New York, a makeover for his mother for the event and limousine transportation — all paid for by Ornstein.
Two hotel stays by Bush, one in Las Vegas and another in San Diego, during March 2005. In both instances, the rooms were paid for by Michaels.
$13,000 from Michaels' fledgling firm, New Era Sports & Entertainment, to purchase and modify a car for Bush.
$595.20 in round-trip airfare from San Diego to Oakland in November 2005 for Bush's stepfather, LaMar Griffin, his mother, Denise Griffin and younger brother to attend the USC-California game at Berkeley. The charges were put on a credit card belonging to Jamie Fritz, one of Ornstein's employees.

Ornstein said he believes that when Fritz paid for airfare and a limousine for the Bush family's trip to the Cal game, the money was eventually paid back. Asked whether he was aware that such loans could constitute an NCAA violation, Ornstein told Yahoo: "I have no idea."

A phone message left by The Associated Press for Bush's attorney, David Cornwell, and Ornstein were not immediately returned late Thursday.

Ornstein denied to Yahoo any wrongdoing on his and Bush's behalf.

"Reggie Bush never received an extra benefit from Mike Ornstein other than what he was allowed to get from the NCAA when he worked with us," Ornstein told Yahoo. He added Bush was an intern at his marketing company in the summer of 2005. "I feel pretty damn good about that."

The NCAA and Pac-10 are investigating whether any rules were broken when Bush's family lived in the home owned by Michaels. Cornwell also said earlier this summer that FBI agents interviewed him about "potential federal crimes" by phone in June. The FBI would neither confirm nor deny whether a federal investigation was under way.

The NFL players union also is investigating the rent payments.

In a statement released by USC counsel Kelly Bendell, the school said it is cooperating with the probe but "cannot comment on any matter that is the subject of an ongoing NCAA and Pac-10 investigation."

Saints spokesman Greg Bensel told the AP the team would not comment on matters involving Bush when he was in college.

"It doesn't involve the Saints," he said.

The allegations would have no effect on Bush's professional football career, a person within the NFL with knowledge of Bush's standing in the league told the AP. The source asked not to be named because of the sensitivity of the situation.

Bush was expected to be the No. 1 overall pick in the NFL draft, but the Houston Texans bypassed him and took North Carolina State defensive end Mario Williams. Bush went to New Orleans with the second pick.

Thanks for reading CBS NEWS.
Create your free account or log in
for more features.