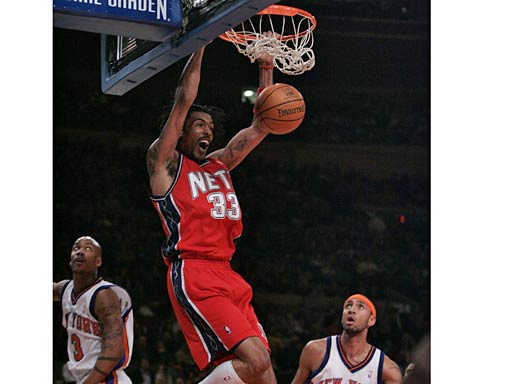 Deron Williams, Devin Harris swap teams in Nets trade: Did New Jersey out-deal New York?

(CBS/CBSSports/AP) - Just days after getting beat out by the Knicks for Carmelo Anthony, the New Jersey Nets just inked their own 3-team uber-deal. Picking up Utah Jazz All-Star point guard Deron Williams and shipping Devin Harris out to the Mountain Time zone, New Jersey may have just one-upped their big city neighbor with one of the best trades of the season.
As CBSSports.com's Ken Berger reports, the Nets have had won goal since this summer: "Get an All-Star." They were hungry for 'Melo, until losing out to New York. Now they have one in Deron Williams, arguably the best point guard in the league. They did it for a steal too, compared to what they were offering for Carmelo Anthony, and what he eventually got from the Knicks. The Nets unloaded several players they were looking to deal, including Devin Harris, and picked up a player who could be the new face of the franchise - especially after they move to Brooklyn.
Sending Derrick Favors to Utah may come as a surprise; the rookie was after all the #3 pick in the draft last year. But Favors and Devin Harris were both included in the deal New Jersey offer Denver for Anthony, so clearly the Nets were willing to deal.

But is there more to it than just smart dealing? CBSSports.com's Matt Moore notes there is the "conspiracy theory that's going to be massively popular for the next month, which is that Mikhail Prokhorov, owner of the Nets, purposefully raised the price tag on Carmelo Anthony, forcing the Knicks to constantly buckle to higher and higher price-tags, eventually giving up four starters and a pick for the All-Star forward. Then Prokhorov turned around and picked up Williams for a steal. It's a far-fetched idea that requires a whole lot of dangerous maneuvering and a pretty petty rivalry. Then again, the Nets put up a billboard outside Madison Square Garden this summer."
Thanks for reading CBS NEWS.
Create your free account or log in
for more features.