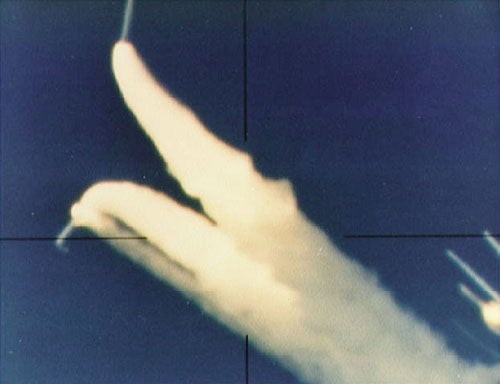 Cox, Smoltz Ejected In Braves Win

After a long night of double ejections and three more walks by Mark Wohlers, the Atlanta Braves had one thing to be grateful for: They'd won again.

The

Related Links

Braves-Reds:

Braves rallied after starter John Smoltz and manager Bobby Cox were ejected Wednesday night, batting around in the next two innings and hitting three homers for an 11-5 victory over the Cincinnati Reds.

Smoltz and Cox were ejected in rapid succession during an argument with umpire Hunter Wendelstedt over a call at third base in the fourth inning, when Cincinnati led 1-0.

The NL East leaders made it the turning point by piling up four runs with two outs in the fifth off Steve Parris (3-0). They then pulled away with three homers: Tony Graffanino's three-run shot and two-run homers by Andruw Jones and Javy Lopez.

Afterwards, Cox and Smoltz were dumbfounded by their ejections for allegedly making contact with Wendelstedt, in his first NL season. Smoltz said the only contact he had came when the umpire stepped on his foot; Cox touched Wendelstedt with his arm as he tried to join in the middle of the argument.

"I just couldn't believe it," Smoltz said. "It's a shame. It could have been very costly. We won the game, but we had to use a lot of (relief) pitchers. It's not a situation that should not have happened."

"Honestly, I think it's a case where a rookie umpire reacted way too quickly to whatever he saw and didn't realize what he was doing at the time," Cox said.

Crew chief Ed Montague said that Wendelstedt ejected both for making contact.

"John came charging on and made contact," Montague said. "He just bumped into him. (Cox) was for poking him with his finger."

Rudy Seanez (3-0) tok over after Smoltz's ejection, threw a pitchout on his first delivery to get Bret Boone breaking from third on a squeeze attempt, and allowed only one hit over 1 2/3 innings to get the win.

The game changed after the pitchout, which Lopez called by putting down a fist.

"You could say (the ejections) fired us up. I would say pitching out on a squeeze right after it happened did as much as anything," said Graffanino, who had three hits and drove in four runs. "I saw Javy throw down a fist and I said, `Good idea.' The pitchout became the turning point."

After beating the Braves 13-1 on Tuesday night, the Reds wound up taking their 11th loss in 13 games.

"I guess they took back out on us what we did to them last night," manager Jack McKeon said. "They got even with us."

Atlanta is 6-2 on a road trip that has been good except for one thing: Wohlers' struggles.

Wohlers, who hasn't recovered his form since tearing a muscle in his side in May, had another wild outing one night after he threw only 10 strikes in 31 pitches.

He came on to start the ninth, threw a pitch to the backstop during warmups, then walked all three batters he faced, throwing only two strikes in 14 pitches. Kerry Ligtenberg replaced him and gave up a sacrifice fly to Melvin Nieves and a two-run single to Pokey Reese before closing it out.

Since returning from a minor-league assignment on July 15, Wohlers has appeared in six games and allowed 14 walks, five hits and 13 runs in 3 2/3 innings.

Asked what he plans to do with Wohlers, Cox said, "I don't know. I'm going to have to talk to him and see where he wants to go from here."

Smoltz, who had won his last four starts to improve to 9-2, was ejected after Boone doubled to open the Reds' fourth. He tagged up and went to third on Eddie Taubensee's fly to Ryan Klesko in left, beating the throw.

Boone's headfirst slide carried him away from the base and he tried to keep contact with his right foot. Wendelstedt called him safe as Chipper Jones made the tag, and Smoltz -- who was backing up the play -- sidled up to the umpire while arguing the call and was ejected.

"He stepped on my foot brushed me and he reacted, panicked and threw me out," Smoltz said. "Unfortunate is not even the word that I'd like to say."

Cox got between the two, putting his hand on Wendelstedt's chest, and also was ejected.

"I said, `Hold it.' He said, `You hit me, you're out, too.' It happened exactly that fast," Cox said. "I've never seen that in all my years."

Atlanta, which didn't get a hit off Parris through the first four innings, took control by batting around in the fifth. Graffanino singled home the first run, Chipper Jones doubled in the go-ahead run and Ryan Klesko singled home two more.

Graffanino hit his fourth homer off Parris an inning later. Andruw Jones' 15th homer of the season, off Todd Williams, made it 9-2 in the seventh. Lopez ht his 22nd, off Stan Belinda, an inning later.
Notes
Jones, playing center, threw Barry Larkin out at home plate in the first inning, his NL-leading 13th assist.
Graffanino's homer was his first since June 5.
Parris gave up seven runs on eight hits and five walks in 5 2-3 innings. He is 0-2 with three no-decisions and a 7.18 ERA since his win.
The Reds signed top draft pick Austin Kearns , a high school outfielder, for a $1.95 million bonus.
The Reds demoted slumping Paul Konerko to Triple-A Indianapolis and called up Williams for the third time this season.

© 1998 SportsLine USA, Inc. All rights reserved
Thanks for reading CBS NEWS.
Create your free account or log in
for more features.