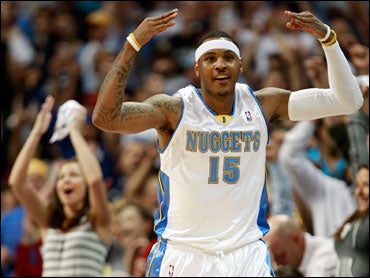 Carmelo Anthony-Lakers Talks May Have Traction
This post was written by CBSSports.com's Ken Berger
---
The Lakers and Nuggets have achieved some traction with recent trade discussions involving Andrew Bynum and Carmelo Anthony, two people with knowledge of the talks told CBSSports.com Tuesday.

Bynum-for-Anthony would be the obvious centerpiece in the proposed deal, but numerous other pieces that would have to be involved make it "very, very difficult to get this done," said one of the people, who spoke on condition of anonymity because he was not authorized to discuss team business.

Carmelo to Lakers? Source Says Teams Talking

The Lakers' early success in piquing the Nuggets' interest in Bynum represents a subtle shift in Denver's trade strategy. One of the people familiar with the talks said Nuggets officials have recently expressed a renewed desire to bring back a "star player" along with multiple draft picks in a trade for Anthony. A scenario involving the Knicks, Anthony's No. 1 choice in a trade, would not yield a star but would save the Nuggets significant money and provide cap relief to rebuild.

UPDATE: ESPN The Magazine first reported the preliminary discussions between the Lakers and Nuggets Tuesday. Lakers GM Mitch Kupchak declined to comment on the level of the team's involvement with the Nuggets, and spokesman John Black said the team doesn't comment on "trade rumors."

A third person connected to the situation said he found it "suspicious" that the Bynum-Anthony scenario would become public so soon after it was publicly revealed that the Knicks have found a willing participant in the Timberwolves to contribute to a three-team scenario that would send Anthony to New York. That person said he received some signals early last week that the Lakers and Nuggets were at least considering entering into Bynum-Anthony discussions.

"Someone is trying to scare New York," the person said.

Although Anthony's representatives with Creative Artists Agency have recently stepped up their efforts to circulate Melo's long-held preference for a trade to New York, those close to the three-time All-Star believe there is no question he would sign a three-year, $65 million extension as part of a trade to the Lakers. Such a scenario would give Anthony everything he wants -- top-dollar in an extension, the big-market allure that comes with the Lakers' Hollywood surroundings, and the inside track to his first championship.

But such a complicated trade is much bigger than Anthony's desires. Sources say the Nuggets would insist on the Lakers recruiting a third team that could provide attractive first-round picks. From the Lakers' perspective, they also would be looking for a backcourt upgrade in the deal -- and sources say Chauncey Billups could fit that bill as a short-term replacement for struggling Derek Fisher.

Also, despite his denials, sources say Ron Artest has, in fact, privately discussed wanting to be traded -- and Lakers officials have been eager to take him up on it, with no realistic takers given the nearly $22 million he is owed over the next three seasons. Including Artest in the framework of a Bynum-Melo deal is highly unlikely, given that Denver would balk at taking on his contract and any third team willing to surrender valuable picks wouldn't want it, either.

UPDATE: In addition, a league source told CBSSports.com Tuesday that he put little credence in reports that Artest could be headed to the Bobcats for either Gerald Wallace or Stephen Jackson. When Artest signed with the Lakers two summers ago, the notion of him going to Charlotte was posed to part-owner Michael Jordan and GM Rod Higgins, who indicated he wasn't the right "fit" for the organization. Also, sources say Artest has been advised of no serious talks that would lead to him being traded -- something the Lakers, who are aware of how Artest's play could be affected by trade rumors, would be sure to do if they were close to trading him.

For these reasons and plenty of others, a Lakers-Nuggets deal centered around Bynum and Anthony is "a long way from being made," one of the sources said.

But if the discussions gained momentum, the Lakers would be giving up their most valuable advantage -- front-court size -- for a player whose scoring talents mirror those of Kobe Bryant. But of all the stars on the 2008 Olympic gold-medal team, Bryant and Anthony were the two who grew closest in Beijing. It's one thing to co-exist on the national team, and quite another on an NBA team with obvious championship ambitions. But at least Bryant and Anthony would have a solid relationship and mutual respect as their foundation.

And look at it this way: Bryant is still playing at a high level, but he can't do this forever. The opportunity to cash in a valuable asset like Bynum for a player who could not only team up with Bryant and win a title now, but replace him in the future, is too good to pass up.

But as has been the case in every Melo trade scenario, the wild card is Denver. Are Nuggets officials willing to send their superstar to a conference rival, only to watch him torture their souls for years? Is a potential star center with suspect knees the best they can do for Anthony? These are among the many questions this tantalizing scenario presents -- and as usual with Anthony, there are more questions than answers.
Thanks for reading CBS NEWS.
Create your free account or log in
for more features.