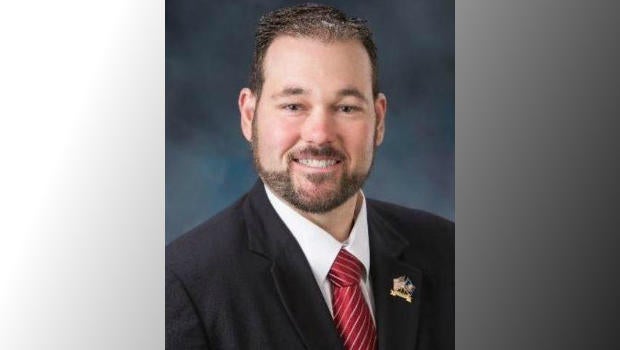 Ex-wife says lawmaker who killed himself molested 2 girls, including relative
BOISE, Idaho -- The former wife of an Idaho Republican state lawmaker who shot and killed himself this week says he was under investigation for molesting two girls, including a young female relative who was abused for more than 10 years. Brandon Hixon died from a self-inflicted gunshot wound to the head at his home, the Canyon County Coroner's office told CBS affiliate KBOI-TV.
Former colleagues at the Idaho Statehouse have offered kind words about Hixon, but his ex-wife Danielle Eirvin Hixon said the suicide robbed her family's hopes of finding justice and closure though the legal system.
She told The Associated Press in an interview Wednesday that she told police about the abuse and that her husband raped and inappropriately touched one of the alleged female victims for about 11 years.
"Brandon made people believe that he was a stand-up, morally correct person," said Hixon, who was married to the former lawmaker for 10 years until their divorce in 2016. "But behind the house walls, he would cheat on me and molested children."
Scott Graf, spokesman for Attorney General Lawrence Wasden, said Wasden's office had no comment on the investigation.
Hixon -- a three-term Republican from Caldwell -- had resigned from the state legislature in October after news emerged that he was the subject of a criminal investigation involving possible sexual abuse, though no details were made public.
His ex-wife said she had been told by investigators not to disclose details about the case until charges were filed against her ex-husband, but that the reason to keep the information confidential ended with his suicide. She said she and two other people had been scheduled to testify before a grand jury Wednesday.
Graf declined comment on whether a grand jury had been scheduled. The attorney general's office took over the investigation after Canyon County Prosecutor Bryan Taylor asked Wasden made that request because of an undisclosed conflict of interest.
"I had no idea it was happening," Danielle Eirvin Hixon said of the alleged abuse, adding that the girl who told her "kept it quiet for so long."
The second alleged victim was not related to the lawmaker, she said, adding that she learned about that girl from the girl's mother.
The AP generally does not name alleged victims of sexual abuse.
Records also show that the former lawmaker was previously the focus of a separate police investigation in 2014 after he was accused of inappropriate touching. He denied the accusations and told police he was worried they would harm his political career. It's unknown if the new investigation, ongoing since Oct. 5, was connected to the earlier case.
Danielle Eirvin Hixon said comments by lawmakers praising her ex-husband's character prompted her to speak up about the abuse allegations. She said she wanted people to know her side of the story.
"I say he was a coward by taking the easy way out," she said of his suicide.
House Speaker Scott Bedke, a Republican, has said the chamber is planning on offering some sort of financial support to the ex-lawmaker's family.
Thanks for reading CBS NEWS.
Create your free account or log in
for more features.