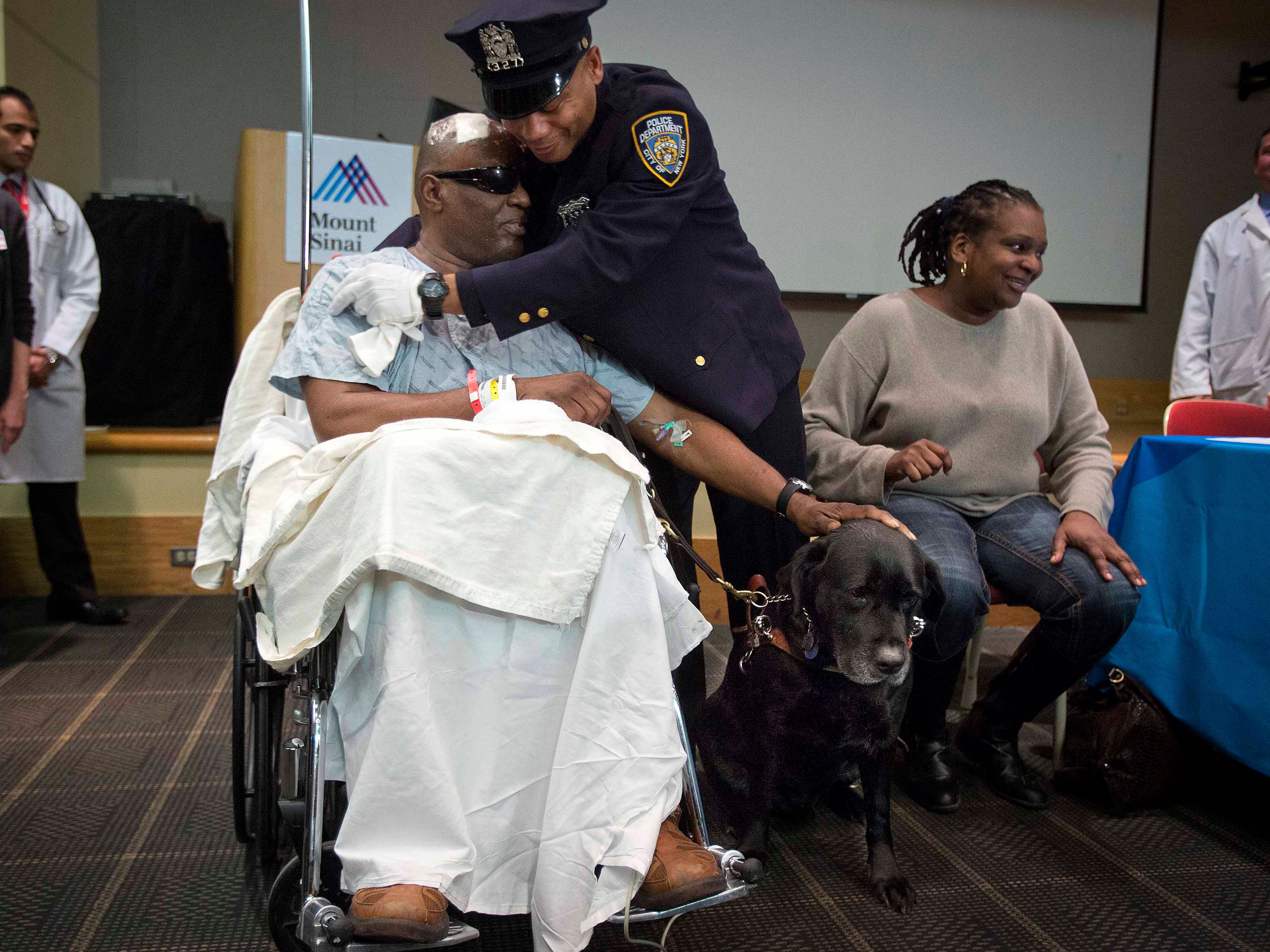 Blind man can keep hero dog after all
NEW YORK - A hero guide dog and his blind owner who survived being run over by a New York City subway train drew enough private donations on Wednesday to keep the two together despite the dog's impending retirement.
Cecil Williams, 60, was standing on a subway platform in the Harlem neighborhood of Manhattan on Tuesday when he fainted and fell on the tracks.
His 11-year-old black Labrador, Orlando, who had tried to hold him up, jumped down after him just as a train was approaching, Williams said at a news conference at St. Luke's Hospital, where he is recovering from non-life threatening injuries.

Clutching his dog, Williams said he flattened himself in the space between the rails as the train moved into the station.

"When we fell over, he stayed there with me," Williams said, as Orlando lay by his side. "He's always looking out for me. That's his job."

Williams said his diabetes and the medication he takes may have been the reason he passed out.

Williams had thought he would be forced to give Orlando up in January when the dog retires, and his costs are no longer covered by Williams' insurance.

Williams will be getting a younger dog to guide him.
But Guiding Eyes for the Blind, the school that trained Orlando, said on Wednesday it had received enough private donations to keep Williams and Orlando together as well.

"The spirit of giving, of Christmas, and all of that - it exists here," Williams said, fighting back tears.

Police Officer Anthony Duncan, who was the first to reach the blind man on the tracks, said at the news conference that he is calling Williams "the miracle man."

"I call him that and told him, 'Go play the Lotto,'" Duncan said.

Several web pages were created online to raise funds in an effort to keep Williams and his dog together. Two web pages - Indiegogo.com and Gofundme.com - had nearly $80,000 in donations by Wednesday afternoon.

Michelle Brier, a Guiding Eyes spokeswoman, urged those who still want to be part of the effort to make donations to support guide dogs in general as Orlando's costs have been fully covered.

As for Orlando, Williams said his pal is looking forward to living out his golden years.

"He's about 77 years old. He's a senior citizen. He's got some gray hairs. So he's looking forward to enjoying life now," Williams said.
Thanks for reading CBS NEWS.
Create your free account or log in
for more features.