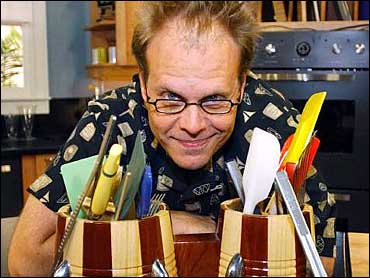 Alton Brown's Asphalt Adventure
TV personality and cookbook author Alton Brown is visiting The Early Show Thursday to talk about good, regional American road food. He recently hit Route 50 on his motorcycle and you can see what he finds on his latest show on the Food Network, "Feasting On Asphalt." The series premieres on Food Network Saturday, July 29, 2006.
The recipes he's preparing on The Early Show are simple, done using the cigarette lighter in a SUV.
Brown, who will turn 44 on Sunday, July 30, is the creator and host of the television show "Good Eats" on the Food Network. He is often described as a culinary version of Mr. Wizard or Bill Nye because he takes a scientific and humorous approach to his cooking shows. Bon Appétit magazine named him "Cooking Teacher of the Year" in 2004.
He is the main commentator on the show "Iron Chef America," an American adaptation of the Japanese series "Iron Chef." Brown is also a regular contributor to Bon Appétit and Men's Journal magazines.
RECIPES:
Bisonloaf:
2 pounds ground bison
1/2 cup finely chopped oil-packed sun-dried tomatoes
1 cup rolled oats (regular)
2 tablespoons brown mustard
1 egg
1 teaspoon ground cumin
1 teaspoon garlic powder
1 teaspoon kosher salt
Mix and bake in a loaf pan at 300 degrees for an hour. (In a 12-volt cooker, this will take an hour and a half.)
Split Pea Goop
12 ounces dry split green peas
1 finger sized hunk of salt pork
1 single chipotle chile (straight from the can)
1 cup assorted chopped aromatics (carrot should be half of that)
1 quart chicken broth
1 tablespoon miso paste (or the "goo" from inside a cup of "instant" miso soup…same thing)
Mix and slow-cook 6 to 8 hours in a 12-volt cooker (or small crock pot).
Thanks for reading CBS NEWS.
Create your free account or log in
for more features.