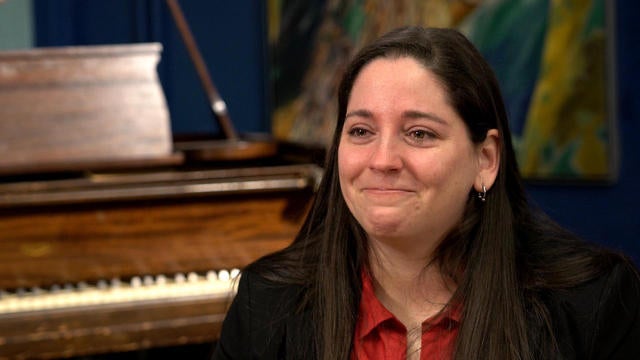 2018 Grammy Music Educator Award goes to Bronx teacher
When Melissa Salguero first arrived at P.S. 48 seven years ago there was no school song, instruments, or even a mascot. Now, the proud Tigers of P.S. 48 have an award-winning teacher and music throughout the halls. Salguero was honored Thursday night with the 2018 Grammy Music Educator Award.
In sync with the sunrise – if not yet with one another – fifth graders in Salguero's band arrive an hour early for practice. Instruments in hand for just four days, she guides the first-time musicians through every note, reports CBS News correspondent Michelle Miller.
"They come in before school because we have so much need for them to be in the classroom and have them get their math and get their English," Salguero said. "So band is a before-school activity."
Believe it not, progress comes quickly there.
"At the end of the day it's not going to be Carnegie Hall, you know, but that's not what we want. What I want is I want the kids to get the experience of working hard," Salguero said. "Teaching this age especially, it has to be something dramatic. It has to be something that is going to grab their attention."
Making a musical carrot or keyboard out of bananas can do that.
"I've never had a teacher like this. She's different in so many different ways. It's like amazing," said student Iseel Sierra.
Iseel, Rushawn Greene, and Luis Galvez are in the fifth grade band and chorus.
"She makes us feel special about ourselves. She doesn't care how we sing," Luis said.
"What we are trying to say is that she makes our day….She makes us feel great," Rushawn added.
The power of a great teacher is apparent when Luis, talking about Salguero, begins to tear up.
"Not every day you get to meet a person that is so important in your life and that will teach you a bunch of things about life and stuff," Luis said.
But P.S. 48 has its challenges. Located in one of New York City's poorest neighborhoods, most families there earn less than $25,000 per year and 22 percent of the school's students are homeless.
"I feel like I was born to teach at this school," Salguero said. "When I started it was just me and a guitar singing 'Don't Stop Believing.'"
Gianee Martinez, one of Ms. Salguero's first music students at P.S. 48, now performs in community theater and attends a competitive performing arts high school.
"She gave me a stage to perform on whenever I was in band and so I realized that I love being on stage and that I love to act and I love to sing," Martinez said.
That love of performing and affection, for this music educator award winner, is why these students are up before dawn each day to practice.
"If there were no band, then I would only see Miss Salguero for one day a week. But then I'd rather see her for the whole week," Luis said.
They come to school not just for music, but for her.
"No one's ever put it that way….I would love for them to think back to their time here and not remember I gotta wake up early for band practice, I want them to remember I worked so hard. If they can remember that I'll be happy," she said. "I'll be so happy."
Salguero's win also comes with a couple of checks for $10,000 – one for her and another for the school – badly needed funds for a music program that doesn't ask students to pay for instruments they can't afford.
Thanks for reading CBS NEWS.
Create your free account or log in
for more features.