COVID In Colorado: Hospitalizations Increase, 28% Of Facilities Anticipate Staff Shortages
DENVER (CBS4) - The number of people currently hospitalized with confirmed cases of COVID-19 continues to rise in Colorado. On Monday, the Colorado Department of Public Health and Environment reported 1,294 COVID-19 patients in hospitals, an increase of 16 from Sunday.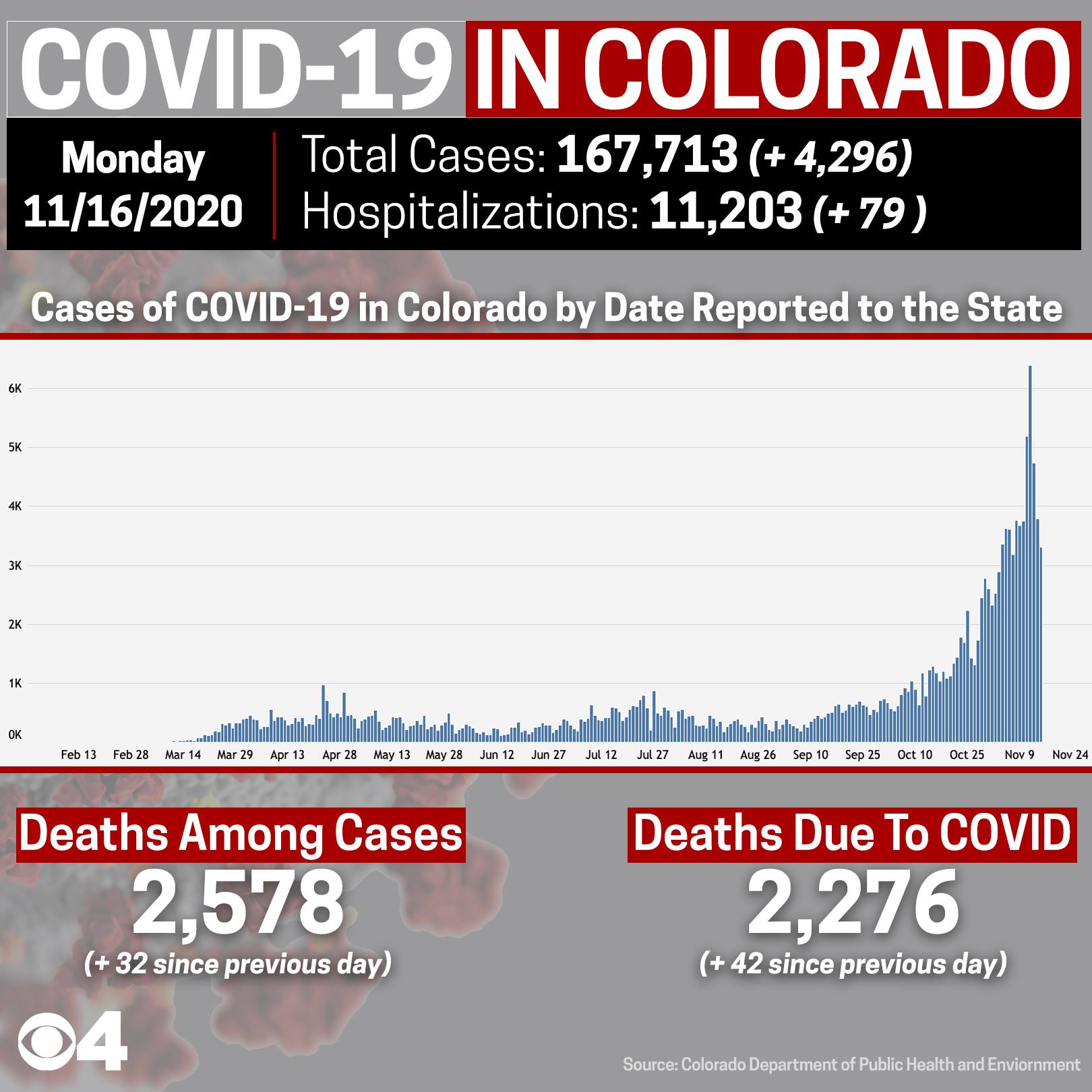 Nearly a third of hospitals and facilities in the state anticipate a staff shortage in the next week. As of Monday, 9% of facilities anticipated a shortage of ICU Beds in the next week and 2% anticipate a shortage of personal protective equipment.
The state reported 4,296 confirmed cases of COVID-19 on Monday. More than 36,000 tests were conducted across the state on Sunday, with a daily positivity rate of 12.48%. The 7-day moving average positivity rate is currently 12.61%, according to CDPHE.
RELATED: COVID In Colorado: Families Urged To Prevent A Thanksgiving Spike
Since the pandemic began, more than 2,000 people have died from COVID-19 in Colorado. CDPHE updates the data each day at 4 p.m. at covid19.colorado.gov/data.
Colorado COVID-19 Data, as of 4 p.m. Monday:
Testing:
36,344 tests conducted on Nov. 15 with 12.61% positivity rate (7-day moving average)
12.48% daily positivity rate on Nov. 15
Hospital Data:
1,294 Patients currently hospitalized, 85% of facilities reporting (+16)
130 Patients under investigation for probable cases, not lab confirmed (-9)
171 Patients discharged/transferred in past 24 hours (+42)
28% Facilities anticipating staff shortages within next week
2% Facilities anticipating PPE shortages within next week
9% Facilities anticipating ICU bed shortages within next week
44% Critical care ventilators in use
84% of ICU Beds in use (7-day average)
Case Summary:
167,713 cases (+4,296)
11,203 hospitalized (+79)
1,472,457 tested (+17,633)
2,560,096 test encounters (+36,344)
2,578 deaths among cases (+32)
2,276 deaths due to COVID-19 (+42)
1,666 outbreaks (+16)
Thanks for reading CBS NEWS.
Create your free account or log in
for more features.