Top 5 Shooting Guards In The Upcoming NCAA Mens College Basketball Season
5) Tyler Haws, BYU, Sr. 23.2ppg, 3.8rpg, 1.5apg, 1spg, 46% FG, 88% FT, 40% 3-PT
Likely the Jimmer Fredette 2.0 experiment all over again at the next level but for now, let's just enjoy watching him fill it up in college.
4) Aaron Harrison, Kentucky, So. 13.7ppg, 3rpg, 2apg, 1spg, 42% FG, 79% FT, 35% 3-PT
Just ask University of Michigan and Wisconsin how clutch this guy has been and expected to be adding another year of experience and turning down going pro.
3) Joseph Young, Oregon, Sr. 19ppg, 2.8rpg, 2apg, 1.3spg, 48% FG, 88% FT, 41% 3-PT
After suspensions to 3 key teammates over the off-season, there will be no question who will receive the green light on this team. QB Marcus Mariotta isn't the only stud in Eugene.
2) Michael Frazier II, Florida, Jr. 12.4ppg, 3.5rpg, 1apg, 1spg, 46% FG, 84% FT, 44% 3-PT
After a deep run in March to the Final Four last season, no player off the roster's name was called during the 2014 NBA Draft. Don't expect the same when he decides to declare. Likely a 'Lotto Lock'!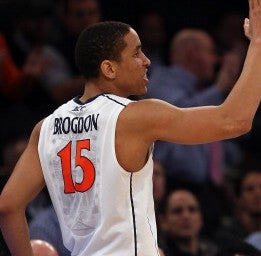 1) Malcolm Brogdon, Virginia, Jr. 12.7ppg, 5.4rpg, 2.7apg, 1.2spg, 41% FG, 87% FT, 37% 3-PT
Cerebral, high IQ, mature, athletic, bulky, perimeter defender in an ideal system that fits his style of play and holds his own... we haven't even started talking about what he can do on the offensive end yet; He's that solid! Led his Cavs past North Carolina, Duke and Syracuse to a Sweet Sixteen, and ACC regular season & Conference tournament title.
Thanks for reading CBS NEWS.
Create your free account or log in
for more features.