Come on in! Welcome to a place where hospitality is king, but the pies are royalty! The hit Broadway musical, Waitress, is serving up a full plate of goodness at the Fox Theatre now until Sunday, February 10th. Composed by Sara Bareilles, this show is a collection of lyrical genius and a story that is so down-to-earth, you feel an almost instant connection.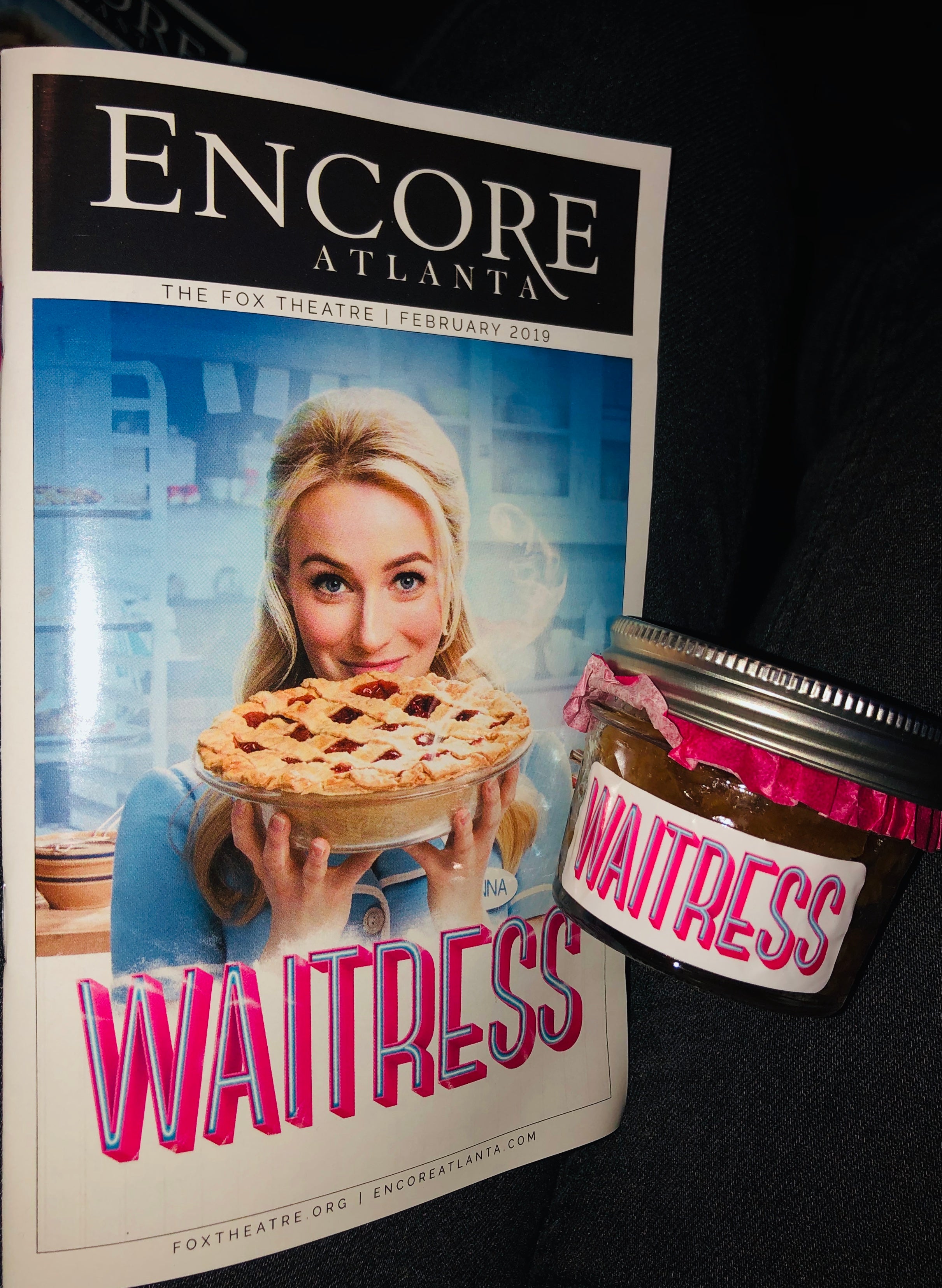 I knew I'd love this show when I walked into the lobby of the Fox Theatre and smelled apple pie. I thought I was imagining things, but nope, I got my little jar of pie right before I took my seat.
As the show progressed, I mindlessly devoured it as I savored the story being unfolded on stage. Waitress is brilliant. It takes a very simple account of courage and self-worth and combines it with the (sometimes, harsh) realities of our personal worlds. It's a fresh take on self-empowerment that gives all of us a reason to believe in what we dream. Everything is achievable. Everything is attainable. Hard work and and flour-dusted tables are the foundation for this recipe of success.
Love comes in infinite forms, whether it's in a pie dish or growing inside of you. Waitress teaches us how to respond and cherish what love we have left. Mix it with sugar, butter and flour and we can create any masterpiece we'd like.
The show even features some of Atlanta's own in very pivotal roles in the show. Maiesha McQueen (Becky), along with Riley and Harper (both share the role of Lulu) all find it exciting to be part of this production. I was able to speak with Riley and Harper about their experience. Oh yeah, I forgot to mention, they're both FIVE!
Wendell: What did you do when you found out you got the part of "Lulu?"
Riley: I screamed and jumped up and down on the bed!
Wendell: What excites you most about being in this cool show?
Harper: I can't wait to be on stage at the Fox Theatre and I really love at the end of the show lots of people will cheer for us.
And that we did. We cheered until our voices cracked. Waitress is worth it. It is easily one of my top five favorite musicals. I can't even stop listening to the soundtrack. Do you think tears are a good addition to pie?
Grab your tickets, here! Open it UP! We'll see you at the diner!
Thanks for reading CBS NEWS.
Create your free account or log in
for more features.