Mike's Top Ten Films of 2021
Mike's Top Ten Films of 2021
1). Licorice Pizza (2021) R
It's 1973, and Gary Valentine (Cooper Hoffman) is a fifteen-year-old high school kid who thinks he has the world by its tail because he is a famous working actor. Then he meets Alana (Alana Haim), an older woman who is about to change his life. I loved this film from the first scene, and Alana Haim is brilliant in the role of the headstrong woman who can't help but get involved with Gary's numerous moneymaking schemes. Add in a stellar performance by Bradley Cooper as legendary Hollywood crazy man Jon Peters, and Licorice Pizza is a movie worthy of the Atlanta Film Critics Circle Best Picture Award.
2). The Power of the Dog (2021) R
The ranch has always been a team effort between the hard-living Phil (Benedict Cumberbatch) and his brother George (Jesse Plemons). Everything changes when Phil marries a widow, Rose (Kirsten Dunst), and brings Rose and her teenage son, Peter (Kodi Smit-McPhee), to live on the ranch. Life will never be the same on the ranch as Phil is determined to run both mother and son off his ranch, his domain. The Power of the Dog might be a huge winner at the Academy Awards, with Benedict Cumberbatch almost a sure thing to win Best Actor. I was most surprised by the performance of Kristen Dunst, who gave a moving and complex interpretation of a woman who is living a life she never wanted for herself or her son.
3). Flee (2021) PG-13
This animated documentary tells the true story of Amin, who is on the verge of marriage, when he reveals his hidden story of fleeing his home country of Afghanistan to Denmark as a refugee. The film is making a ton of the end of the year critic's lists and a sure bet to be an Academy Award nominee, Flee is a masterful telling of an unbelievable story of perseverance, hardship, and guilt. Filmmaker Jonas Poher Rasmussen interviews Amin on camera, letting Amin tells his remarkable tale but let's Amin tell it in his own way, in his own time, as the two friends slowly let us get to know Amin and the circumstances that started his long journey. The film is a magnificent bit of storytelling with as many twists and turns as a big Hollywood piece of fiction.
4). CODA (2021) PG-13
Ruby (Emilia Jones) is a gifted seventeen-year-old girl with a talent for singing, with a voice that her family has never heard because she is the sole hearing member of a deaf family: a CODA, Child of Deaf Adults. Her life revolves around working on her family's fishing boat after school, and now she must choose between two things she loves, her family and her music. CODA is one of those rare films that comes along that you know how it will end, but you want it to keep going because you are enjoying every moment. The cast is brilliant, let by Emilia Jones as the daughter who finds out that she loves something as much as she loves her family, singing.
5). West Side Story (2021) PG-13
The classic love story between two young people (Ansel Elgort, Rachel Zegler) who fall for each other during a turf war in 1957 NYC between the Jets and the Sharks. Rachel Zegler was just dazzling in the role of Maria, and I loved the updated dancing sequences. Also, I absolutely loved Ariana DeBose's performance as Anita, bringing as much passion and forcefulness to the role as Rita Moreno did in the original. Add in a beautiful song sung by Rita Moreno (who won an Academy Award for her Anita performance back in 1961), and this makes a great addition to the Steven Spielberg movie-making legacy.
6). The Lost Daughter (2021) R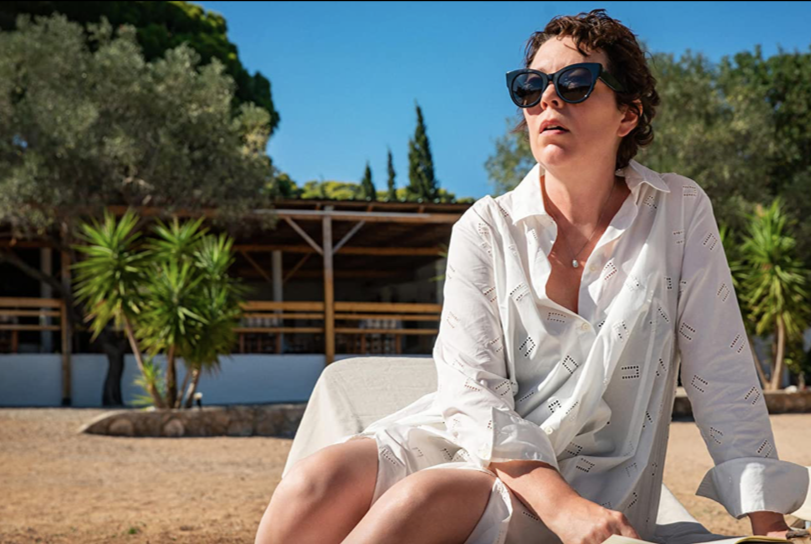 Leda (Olivia Colman) is on a beach vacation where she wants to be left alone to write. But her past keeps coming back to haunt her as she becomes involved with a local (Ed Harris) and a young, troubled mother (Dakota Johnson) who is part of a loud and large family that is also on vacation. Olivia Colman has been one of our best actors in the last ten years, and this performance is both maddening and touching at the same time, bringing testament to how good she is. Colman is sure to get an Academy Award nomination from this role. Add in that this film is written and directed by first-time filmmaker Maggie Gyllenhaal and it makes it even more special.
7). The Summit of the Gods (2021) PG
In 1924, George Mallory and Andrew Irvine attempted to climb Mount Everest and were never seen again. Seventy years later, Makoto, a young reporter, encounters a climber named Habu, who may have a camera that Mallory and Irvine used in their attempt to be the first to climb Everest. Now Makoto finds himself intertwined with Habu and goes on a quest to record Habu's own attempt to climb the legendary mountain. Part mystery, part adventure film, The Summit of the Gods is an intriguing story about two men; one on a quest to find a camera that could prove Everest was prevailed over long before Sir Edmund Hillary did and another on a quest to conquer the demons of his past and fulfill his dreams. Just a brilliant piece of animation and a great story make this film one not to be missed.
8). tick, tick…Boom!
(2021) PG-13
Jonathan Larson (Andrew Garfield) works at a diner but has been trying for eight years to bring a musical that he has written for the stage, worried that he has made the wrong career choice. As he is about to turn thirty, Jonathan navigates love, friendship, and the pressure of life in the big city of NYC as he dreams of bringing his life work to life. Oh my gosh, are fans of RENT going to eat this up! It's a beautiful musical, full of great songs and a winning performance by Andrew Garfield. Garfield brings all the energy and spunk that Jonathan needs to show his passion for writing and singing. Garfield's enthusiasm is infectious, and you root for Jonathan to succeed right from the start. The film is a celebration of a songwriter who loved life and loved making music.
9). Pig (2021) R
A famous truffle hunter, Rob (Nicolas Cage), lives alone out in the Oregonian wilderness, isolated from the world he left behind many years ago. When he is brutally attacked, and his prized truffle hunting pig is kidnapped, Rob returns to his past in Portland in search for her and the people responsible. I know that in the past ten years, Nicolas Cage has made some strange films, sometimes horrible (Left Behind), sometimes wonderfully weird (Mandy), and sometimes just plain bizarre (Willy's Wonderland). Cage doesn't always make the right choices, but he can bring us some fantastic, low-key performances that few other actors out there can deliver. Pig is one of those magical Cage performances, and he is perfect for the part of a man haunted by his past who has escaped the world to live in the wilderness with his truffle-hunting pig.
10). Nightmare Alley (2021) R
Stanton (Bradley Cooper) is a grifter, a man trying to hide from his past. After working at a traveling carnival and learning the tricks of the trade, Stanton and a fellow sideshow performer (Rooney Mara) run away and start a successful mentalist act. Using the skills he developed as a carny, Stanton becomes involved with a psychiatrist (Cate Blanchett) and sees her as a way to con some of the most powerful men in the city. It's a dangerous game that Stanton is playing, and it may be his last. A masterwork at storytelling, Guillermo del Toro's Nightmare Alley is a tale of horror, greed, and fate. Stanton learns early on not to tempt fate, but he can't help himself. It's in the cards.
Honorable Mention: In The Heights, The Mitchells vs The Machines, Belfast, The Reason I Jump, The Card Counter, Storm Lake, Passing, A Hero, Luca, Worst Person in the World, Cyrano, Mass, Summer of Soul, The Rescue, Encanto, Dune, The Suicide Squad, Holler, A Quiet Place II, Julia, Quo Vadis, Adia?, The Father, Raya and the Last Dragon, Billie Eilish: The World's a Little Blurry.
Thanks for reading CBS NEWS.
Create your free account or log in
for more features.